Budapest is the capital of thermal springs in Europe. There are more than a thousand natural hot springs in Hungary and in the capital of Budapest alone, there are over a hundred! The culture of the

baths of Budapest

is a testimony to Hungarian history.
Discovered by the Celts, the baths were first highlighted by the Romans in their famous: "in balneis salus" or "health is in the baths!"
The Turks who later occupied Hungary for 150 years built some of the world's finest thermal baths. Thus there are more than twenty establishments, baths and thermal baths in Budapest.
These baths are part of the tradition and culture of Hungarian life not only for their medicinal (rheumatism, osteoarthritis, muscle pain) and relaxing virtues, but also because they are a meeting place for friends, family and business, from 7 am in the morning in summer and winter.
Let yourself be tempted by a visit to the

thermal baths

, a unique and iconic Budapest experience!
Discover this video of the main thermal baths of Budapest:
TIPS FOR THE BATHS
Essential full enjoyment of the baths and their exploration, do not forget to bring your 'flip-flops shoes' -very useful on the slippery floors of the baths of Budapest. The use of such shoes is compulsory in some baths!
Bring your bath towel because many do not rent them.
In the swimming pools, wearing bathing caps is often compulsory in Hungary. Bring your own because the cap rental is not available in all baths.
For men, there are no restrictions on swimwear: swim shorts, boxer shorts, bathing trunks are all allowed in Budapest baths.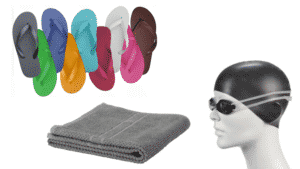 Our 

selection

'Budapest Travel Tips'
of

the best baths in Budapest

: