Organize your trip to Budapest in a few minutes! Hotels, restaurants, monuments, museums, guided tours, concerts,… we help you to decide without losing time!
Planning a trip abroad is often long and complicated. Our experience of the Hungarian capital is here to help you! We have identified the 8 key points to prepare and we will guide you to plan your trip to Budapest with peace of mind:
Plane, train or car, the pearl of the Danube awaits you!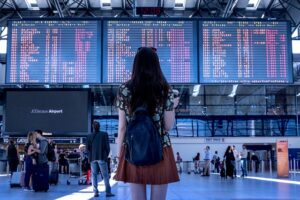 Hungary, a member of the European Union, and its central position in Europe is not a distant destination. Its capital Budapest is located 1070 miles from London (driving distance), 923 miles from Paris (France) and 600 miles from Frankfurt (Germany).
Budapest is also only 240 km from the Austrian capital, Vienna.
By car to Budapest:
From London, allow 17 hours driving time (excluding stops) through France, Belgium, Germany and Austria.
From Paris, allow 15 hours driving time (excluding stops) through Germany and Austria.
From Frankfurt: 9 hours drive (excluding stops) through Austria.
By train to Budapest:
Traveling by train is the quintessential way to tour Europe. It's super-efficient as you can enjoy a vast rail network and arrive in the center of town. It's not only comfortable but train travel gives you a great way to see a lot of beautiful countryside.
To help you to plan your train journey, we recommend you to usu the website Rome2Rio which will help you with train routes, time travel and costs.
To book your tickets then, you can use such websites as Trainline and Omio.
By air to Budapest:
Several traditional and many low-cost airlines fly directly from Europe's big cities to the Hungarian capital Budapest. The frequency of these flights varies according to the month of the year. Here are some airlines that fly directly to Budapest:
Please note: these airlines can suspend and resume flights to Budapest at any time. So check out the flights currently available on this link from Skyscanner or on this link from Booking.com.
Currency: in Hungary you pay in forint!

Hungary is not in the Euro zone and its currency is called the Forint, which is abbreviated to HUF ('Hungarian Forint'). Most shops accept credit cards (Visa, Mastercard) but American Express credit cards are not most of the time.
Important: in order to avoid unfavourable exchange rates, we advise you to always pay in Hungary in Hungarian currency, the forint, in cash or by credit card.
You can find cash machines (called 'bankomats' – ATMs) at many locations in the Hungarian capital as well as at Budapest airport.
To find out where to change your money at the best rate in Budapest (exchange offices, ATMs, etc.) as well as the different Hungarian banknotes and coins, see our dedicated article "Hungarian currency – changing your money in Hungary" on this link.
Accommodation in BUDAPEST: hotels, hostels, Airbnb and others – book as soon as possible!
Budapest has 1.8 million inhabitants on a surface of 513 km2 (2/3 on Pest, 1/3 on Buda) subdivided into 23 districts. Budapest is a large capital city where the location of your accommodation should be chosen with care.
Find our advice on choosing your district and borough as well as our selection of hotels (from 5 to 2 stars) in our dedicated article 'Where to stay in Budapest' on this link.
We recommend that you book your hotel in Budapest in advance to get the best rates, especially in May, June, summer and from October to Christmas when the best hotels in the Hungarian capital are often fully booked.
Here is an example of two recommended accommodations from our selection of accommodations in Budapest:
CASATI HOTEL – trip to Budapest

The Casati Budapest Hotel is a boutique hotel located in the centre of Pest in the liveliest part of Budapest (bars, restaurants, clubs,…), very close to the National Opera. It has 25 rooms in a building dating from the 18th century and stands out for its arty decoration.
Address: Hotel CASATI, Paulay Ede u. 31, 6th district, Pest.
Hotel CASATI's technical data sheet: click here.
CONTINENTAL HOTEL BUDAPEST

The Continental Hotel Budapest (270 rooms) is a 4-star design hotel located in Pest: it is not only its central location close to the ruins of Budapest's bars and the Jewish quarter that deserves attention but its past: built on the site of the legendary Hungária Bath, the hotel boasts splendid Art Deco architecture, volumes and unique decoration.
Address: Continental Hotel, Dohány utca 42-44, 7th district, Pest.
Technical data of the CONTINENTAL Hotel Budapest: click here.
YOUTH LODGE – Maverick City Lodge

Maverick City Lodge is a student hostel offering private rooms and dormitories with nice common rooms and Wi-Fi. Located in the centre in the ruin bar area, it is surrounded by shops and bars.
Address: Hostel Maverick City Lodge, Kazinczy utca 24-26, 7th district, Pest.
Hostel Maverick City Lodge data sheet: click here.
Visiting Budapest: what to see and how to organise your program?

Budapest, the pearl of the Danube, is a large city (513 km2) but the advantage is that the main monuments on each side of the Danube, which separates Pest and Buda, are concentrated in a few districts.
Most of the sites can be visited on foot and the city of Budapest benefits from a well-developed public transport network (bus, metro, tram, trolley,…).
We have listed in an article the must-see places in Budapest that you can consult on this link.
To give you a taste of what to expect, here are some pictures of Budapest's must-see sites: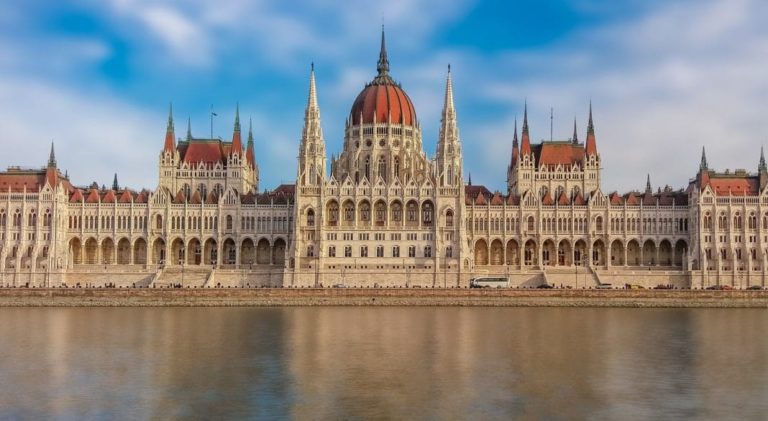 The Hungarian Parliament is one of the most emblematic monuments of Budapest: it is the seat of the Hungarian National Assembly but you can visit it every day!
With 18,000 m2 it is one of the largest parliaments in Europe and its neo-gothic style façade is 268m long.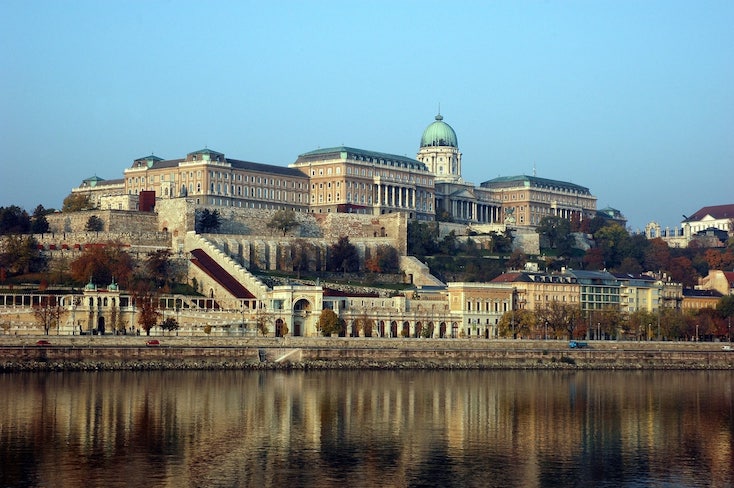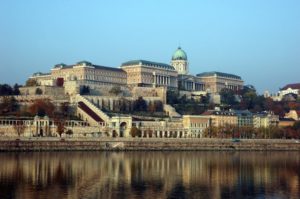 Buda Castle (also called 'Budavár' Palace) is the historic castle built in 1733 where the kings of Hungary resided, listed as a UNESCO World Heritage Site.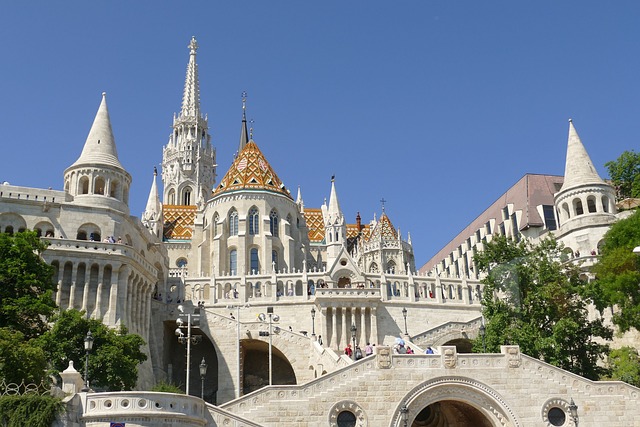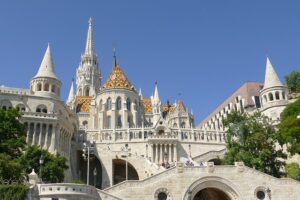 The Matthias Church and the Fisherman's Bastion are located on the Buda hills in the Old Town of the Castle District. Two 'whoa' effects: the roofs of the church covered with multicoloured glazed tiles characteristic of the Secession style and the magnificent view over Pest!
To help you plan your own personal programme of visits to Budapest, we have created 3 programmes and itineraries depending on the length of your stay. Be inspired by them according to your desires and affinities!
2-day Budapest sightseeing

programme on

this link

.
3-day

Budapest sightseeing

programme on

this link

.
4-day Budapest sightseeing programme on this link.
The thermal baths of Budapest

Budapest, the hot springs capital of Europe: there are more than a hundred natural hot springs in the capital Budapest!
Budapest's baths are part of the Hungarian tradition and culture of living not only for their medicinal and relaxing properties but also because they are a place to meet friends, family and business in summer and winter.
Budapest has about 20 thermal baths: discover our tips for this unique experience and our selection of the best thermal baths in Budapest on this link.
Restaurants and cafes – trip to Budapest

Hungarian cuisine is marked by various influences, mainly those of the Austro-Hungarian Empire, the Orient (Turkish and Balkan) and the Gypsies.
Another distinctive feature of this cuisine is the use of bright red Hungarian paprika. Goulash soup, foie gras, chicken with paprika, you will find all kinds of food in Budapest, from the most modest street food to starred gourmet restaurants!
Theatres of intellectual life, Budapest's cafés have served as homes and refuges for generations of artists and writers. Today, several of the Hungarian capital's superb historic cafés remain, where you can enjoy an excellent cup of coffee, a pastry or even a meal in these uniquely inspiring places!
You will find our articles on our selection of restaurants in Budapest on this link as well as the historical cafés in Budapest on this link.
Museums and exhibitions in Budapest: which ones to visit?

The richness of Budapest is not only based on its castle, its cathedrals and magnificent monuments, but the Hungarian capital also offers you a large number of cultural institutions and exhibitions. The opportunity to discover great Hungarian artists such as Victor Vasarely and his dedicated museum or the Hungarian painter Mihály Munkácsy.
To choose your visits, discover our article on the museums of Budapest on this link.
Concerts, operas and ballets – trip to Budapest

Budapest is a music-loving city that offers the possibility to attend many classical music, opera and ballet concerts of the highest quality. It is an opportunity to discover concerts in beautiful halls and venues at affordable prices! The superb Budapest National Opera House reopened in 2022 after a 4-year renovation!
So let us guide you through our selection of concerts and performances in Budapest on this link.
The tradition of the Budapest Christmas markets

A true tradition in Hungary, the Christmas markets in Budapest are a must on Christmas Eve and contributes to creating a magical atmosphere by sublimating the architecture of the Hungarian capital. The smell of Christmas cakes and mulled wine, the illuminations and villages transport you into a unique and fairy-tale atmosphere!
We have selected our favourite Christmas markets in Budapest, all in Pest:
1 St. Stephen's Basilica Christmas Market.
2 The Christmas market on Vörösmarty Square.
3 Fashion Street.
4 Erzsébet Square Christmas Market.
Discover each of them in detail (addresses, schedules, video,…) on this link.
We hope that this article will save you a lot of time in the organisation of your trip to Budapest. It summarises many of the points you need to know.
However, you will find more details in our section

Preparing your trip to Budapest

(weather, public holidays, public transport, useful contacts, changing money, etc…) on

this link

.