Do you want to travel from Budapest Airport to the city center by

taxi

? Here are our tips to avoid any stress and misadventure with taxis from the airport!
Taking a taxi at Budapest airport involves using the Hungarian taxi company called FőTaxi. 'FőTaxi'. It is the official authorized company to wait at the exit of terminals 2A and 2B of the international airport Liszt Ferenc of Budapest (the only airport of the city).
When you exit the arrival hall, on the outside sidewalks of the two terminals, you will find the ticket office of Fötaxi where taxis are waiting.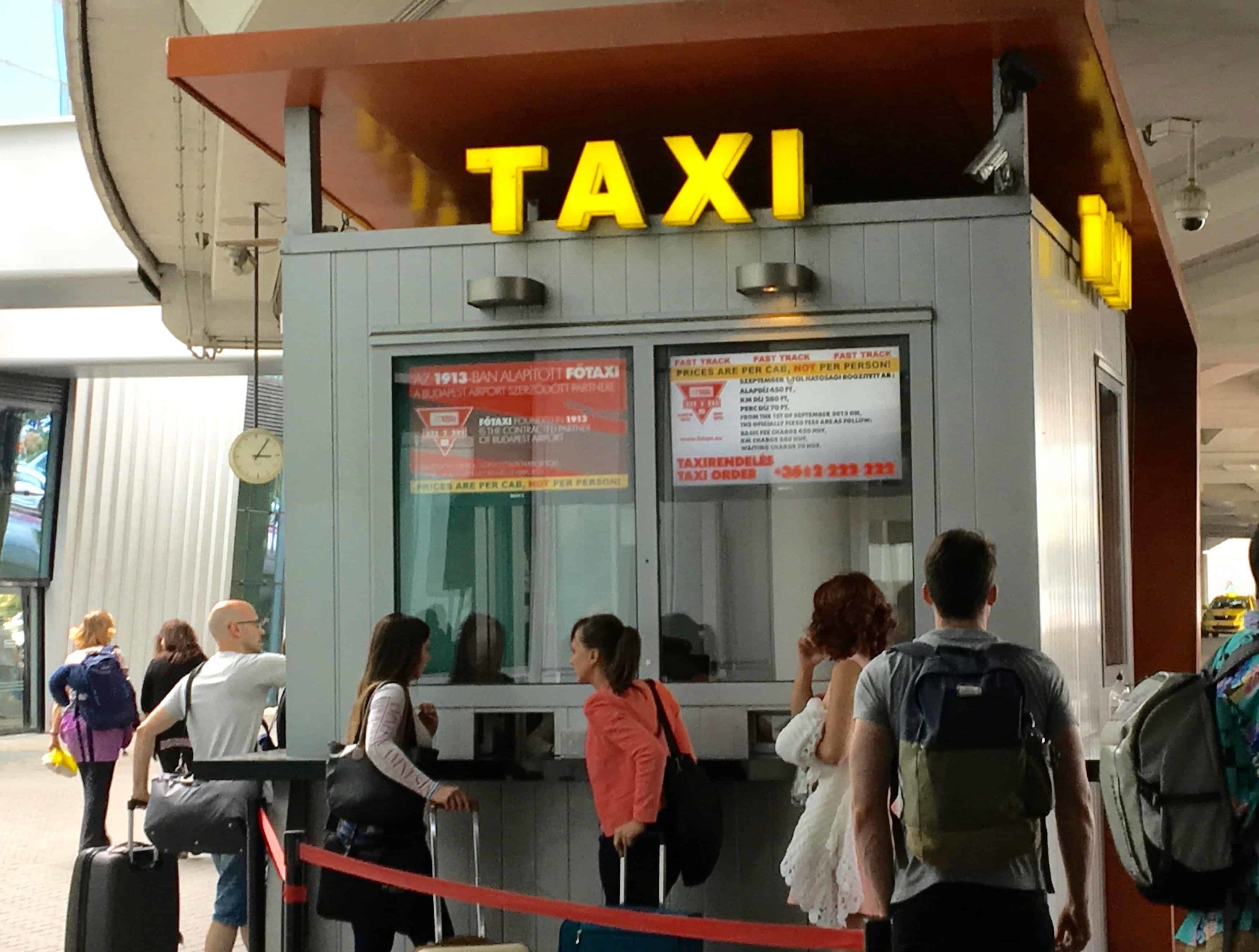 After registering at the counter, you can take your taxi.
HOW MUCH DOES THE TAXI OF BUDAPEST AIRPORT COST ?
The Budapest taxis costs are regulated and identical at the airport or in the city. From 1 May 2022 these costs are:
Pick-up cost: 1000 forint (≈ 2,6 €  ≈ 2,2 £ ≈ 2,7$).
Then a cost of 400 Ft per km ≈ 1.05 € ≈ 0,9 £ ≈ 1,1$.
(cost of 100 Ft/mn if vehicle stops ≈0.27 € ≈ 0,2 £ ≈ 0,27$).
No extra cost for luggage or the number of passengers.
Same cost at any time of the day and evening.
Budapest taxis always accept, if you wish, a passenger next to the driver.
The Budapest airport is located 24 km from the city center; it will cost between 28 and 30 € to reach the city center. This price can increase in case of a traffic jam. Generally road traffic is heavier on weekdays in the morning between 7:30 and 9:30 and in the afternoon between 16:30 and 19:00.
HOW TO PAY YOUR FARE ?

You can pay Budapest taxis in cash with local currency, the forint, or with euros.
Most Budapest taxis also accept credit cards (Visa, Mastercard) but check with the driver at the payment terminal. When you pay with a credit card, check that the amount displayed is in local currency, the forint, and not in euros.
The conversion rate applied by Budapest taxi companies in euro is always unfavorable.
UBER IN HUNGARY ?
Uber no longer exists in Hungary and there is no equivalent taxi service in the country.
The taxi company BOLT has a mobile application similar to Uber, but the prices are the same regulatory prices as mentioned.
Want to know about other options available to reach the city center from Budapest Airport?
Bus, Shuttle…find all the information you need  in our dedicated article on the "Transfer from the airport to Budapest" on this link.