What to do and see

in Budapest in April ?
Discover the numerous events and activities we have selected for your visit to Budapest in April.
The calendar for Budapest in April is regularly updated as soon as new events are announced that attract our full attention.
Vaszary Exhibition at Buda Castle until 2 April 2023.
This exhibition at the National Gallery of Buda Castle introduces you to János Vaszary (1867-1939), one of the greatest masters of Hungarian art. The paintings on display cover almost the entire range of Vaszary's work, from his impressionist beginnings to his expressive compositions, from his art deco style in Paris to his paintings of the Danube promenade and his seaside scenes with a Mediterranean feel.
An exciting exhibition that we recommend!
Address: National Gallery, Szent György tér 2, 1st district, Buda – map – website. Opening hours: 10:00 to 18:00 from Tuesday to Sunday.
Concerts MATTHIAS Church – Friday 7,14,21 and 28 April
The beautiful Matthias Church in Buda's Old Town holds classical music concerts several times a month with the Budapest Duna String Orchestra. Spend an evening in this unique venue and enjoy a magical classical concert performed by the Duna String Orchestra and violin soloist Gabora Gyula. Concert every Friday. You can choose from 3 different seating categories, depending on your preferences:
Information about Matthias Church Concerts and tickets – click here
Address: Matthias Church, Szentháromság tér 2, 1st district, Buda – map –
Watch this beautiful video of the Matthias Church in Budapest on this link.
Telemann, Fasch, Handel concerts in the main hall of the Academy of Music on Saturday 15 April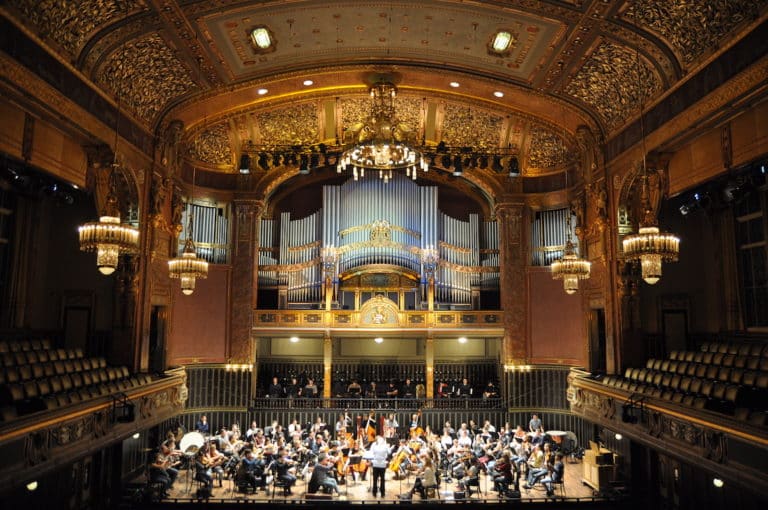 Don't miss: the Budapest Festival Orchestra's unique concert at the beautiful Academy of Music in the city centre: Tickets from 14 euros in category 6 –
Academy of Music concert information and tickets – click here
Concerts St. Stephen's Basilica – 14,21 and 28 April 2023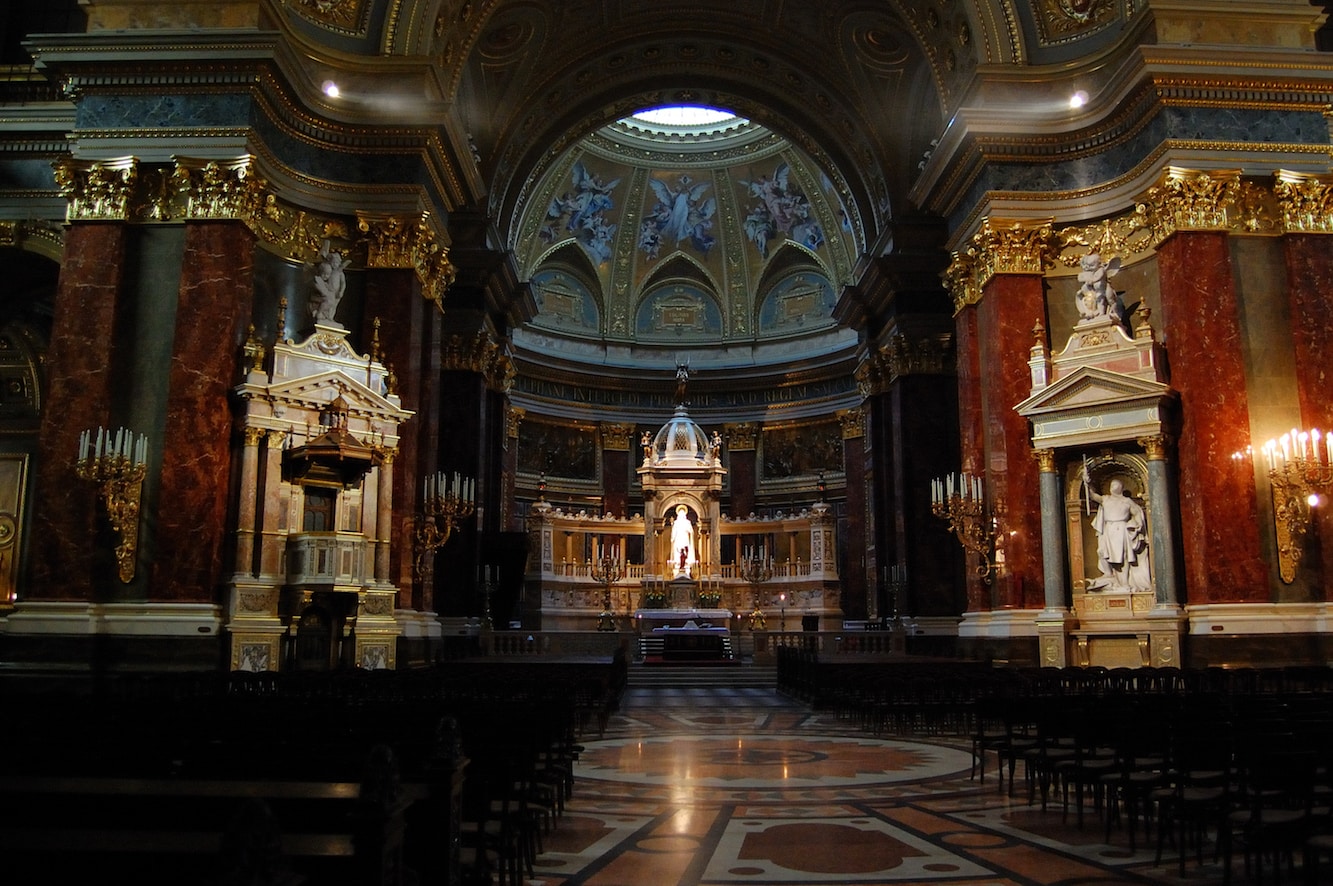 In the majestic setting of St. Stephen's Basilica in the center of Pest a weekly organ concert is offered adapted by Miklós Teleki. The arias of the program are performed by Kolos Kováts, one of the most famous singers of oratorio concerts in Hungary, and you can also listen to the flutist, Eleonóra Krusic.
Concert with program subject to change: Wolfgang Amadeus Mozart, Antonio Vivaldi, Alessandro Stradella, Tomaso Albinoni, Ferenc Liszt,…
Duration: about 70 minutes. For Information on Organ Concert and tickets – click here
Vivicitta Budapest Half Marathon – 22 and 23 April 2023
The Vivicitta Spring Half Marathon is part of a two-day running event. On Sunday 23 April, runners can choose between a half-marathon (21 km) individually or in teams of 2 or 3, or a Vivicitta (10 km) and a Midicitta (7 km), while on Saturday the focus is on shorter distances for less experienced runners. With distances ranging from 950 m to 21 km, every member of the family can find their own challenge and welcome the summer running! Information and registration on the official website at this link.
Budapest Cruises on the Danube River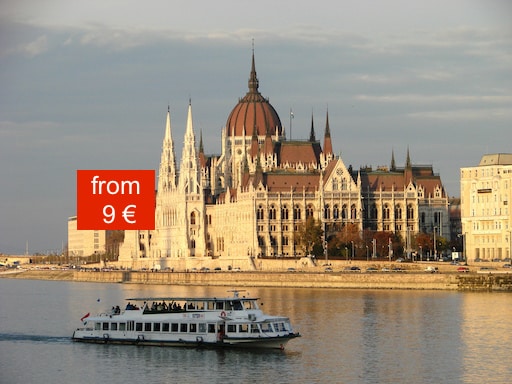 Discover Budapest with a cruise on the Danube (45mn-1h), day and night, to admire Buda Castle, Matthias Church, the Hungarian Parliament, Citadel, Hotel Gellért, and more.
Moreover, there is the possibility of a dinner cruise every evening (2h45).
Cruise information in Budapest – click here
You also have the opportunity to have dinner during your cruise while admiring Budapest by night!

In the evening departing at 19:45, you can enjoy a two and a half hour cruise on the Danube accompanied by a four-course dinner and the musical performance of local Hungarian artists (November to February with advanced departure at 19:00).
Information and booking – dinner cruise – click here
National Opera in Budapest

After more than 4 years of renovation, the Hungarian National Opera reopened its doors in March 2022! With a capacity of 1200 seats, the National Opera of Budapest inaugurated in 1884 is an iconic place of the Hungarian capital. Discover its architectural beauty and the quality of its representations!
Information about the Budapest Opera, programs and tickets on this link.
Budapest Opera House Guided Tour
Discover the second largest stage in Europe on this guided tour of the Hungarian State Opera House, a must-see on your trip to Budapest!
A tour of the Opera House of about 60 minutes starts daily at 13.30, 15.00 and 16.30 in English. Booking at least 1 week in advance strongly recommended.
Information Opera House Guided Tour
and booking – click here 
SPARTY bath parties at the Széchényi baths in April – 1,8,15,22 and 29 April 2023
The Széchenyi Baths host the Sparty parties on Saturday evenings in their outdoor baths. In this impressive setting you will experience animations, dancers, 3D projections and DJs live sets for a unique party !
Information SPARTY and tickets –  click here
Video of the Sparty event:
The Széchenyi baths can be reached by public transport via the Metro M1 – Széchenyi fürdő station – and the trolley bus 72 – Széchenyi fürdő station.
Address: Széchenyi baths, Állatkerti krt. 9th – 14th district, Pest.
Hungarian folk dance performance each Saturday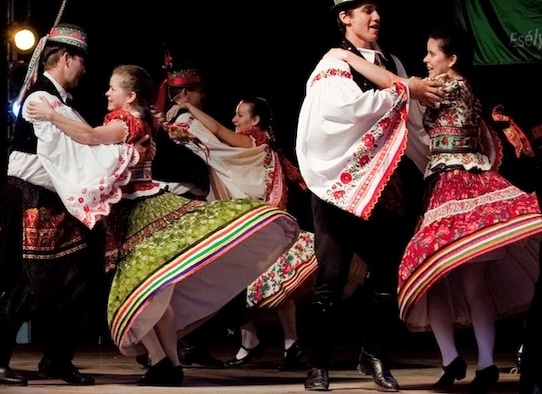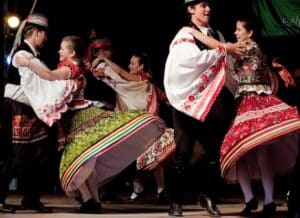 Treat yourself to a cultural extravaganza as the famous Rajkó Folk Ensemble puts on a 1.5-hour dynamic and magical show of traditional music, dances and costumes. Through the dance-theater performance, you will witness a fascinating insight into the costumes, music, and dance heritage of Hungary and its former empire. Each concert starts at night and consists of two halves of 40-45 minutes, with a break for intermission.
Information and Tickets – click here
Discover also opera, classical concerts and shows in Budapest in our dedicated article on this link.