'The Hungarian currency is the Forint which abbreviates to 'HUF' (Hungarian Forint) or sometimes 'Ft' ('Forint').
Even Hungary is part of the European Union, you pay there with Forint, the Hungarian currency. However, many shops and restaurants in Budapest accept payments in cash or by credit card in Euros but applied rates are unfavorable.
Therefore we recommend you to pay in Forint, in cash or by credit card.
The fluctuation of the hungarian currency (Forint) and Euro is is changing from time to time, so it is better to check the conversion rate before changing your money in Budapest:
November 28, 2023:
1 Euro ≈ 380 HUF,


1 $ = 347 HUF

and

1 £ ≈ 438 HUF.
Find the rate of other currencies (Swiss Franc, CAD, …) compared to the Forint on this link of the Hungarian National Bank.
Foreign exchange offices in Budapest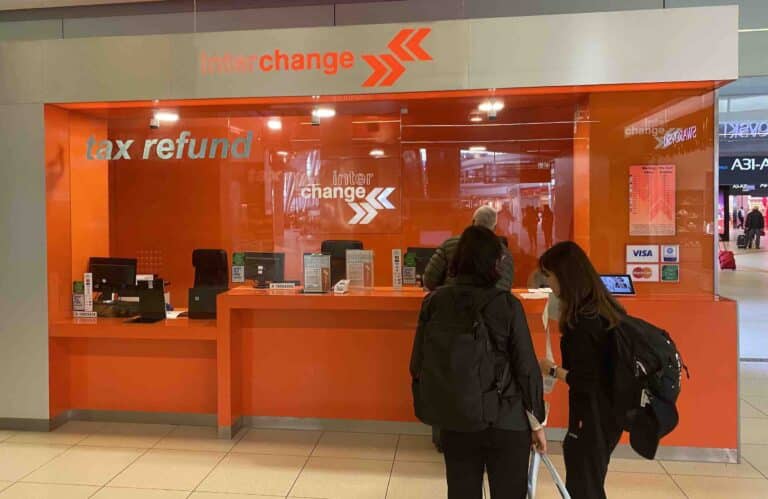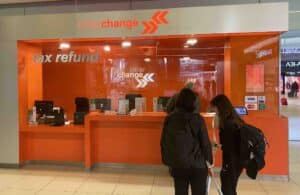 The exchange offices that provide a service with the currency of your home country are numerous in Budapest: For example you would find an exchange office at the airport, in railway stations and in the city center, as well as in Banks (generally open from Monday to Friday, from 8am to 4pm) that offer money exchange, but for a less favorable rate. However, we do not recommend the exchange offices at the airport with their high rates. Just change a small amount -if needed (exchange office or ATM) for your transfer from the airport to the city center.
There are also some hotels in Budapest that provide money exchange services, but most hotels have high exchange rates. So do not hesitate to compare the different rates and commissions that are offered before buying hungarian currency.
Here is a list of exchange offices in Budapest:
Budapest 'Correct Change' II Hidegkúti 1. – map –
Budapest Correct Change II Margit körut 64. – map –
Budapest 'Correct Change III. Lajos u. 51. – map –
Budapest Correct Change V. Szent István körút 23. – map –
Budapest 'Correct Change' VII. Erzsebet krt. 41. – map –
Budapest Correct Change VIII. József körút 40. – map –
Budapest Correct Change XI. Bocskai út 23-25. – map –
Budapest Correct Change XI. Bartók Béla út 53. – map –
Budapest 'Correct Change XV. Szentmihályi út 171., China Mart – map –
Exclusive Change VI. Teréz krt. 21. – map –
Ibla Change Currency Exchange VI. Bajcsy-Zsilinszky út 5.  – map –
Joker Currency Exchange VI Bajcsy-Zsilinszky út 65 – map –
Omika Currency Exchange XI. Bartók Béla út 16.- map –
Exchange offices located on the major boulevards in the Pest- city center:
– Teréz körút boulevard (between Oktogon and Blaha Lujza tér squares).
– Rákóczi út boulevard (between Blaha Lujza tér and Astoria squares).
You will find exchange offices with good rates there (boulevards indicated in blue on the map below):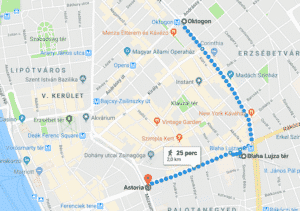 Also avoid the exchange offices located in touristic sites ('Váci' pedestrian street for example). Similarly, exchange offices that you would find open late at night don´t provide the best rates.
ATMs in Budapest – hungarian currency

There are many ATMs (for VISA and Mastercard) in Budapest e.g. at the airport, adjacent to banks, shopping centers. A commission is applied to each withdrawal. You can inquire about the fee for transactions abroad at your local bank branch before you arrive in Budapest. Your bank might have a partnership with a hungarian bank,which might serve you some beneficial advantages during your stay in Budapest.

Our advice:
– When you remove money from an ATM, always choose the local currency, Forint.
– Avoid 'Euronet' ATMs or ATMs marked 'EUR-HUF' with unfavourable exchange rates, of which there are many in Budapest.
Credit cards in Hungary

VISA and Mastercard credit cards are accepted at most restaurants, shops, museums and baths in Budapest.
American Express credit cards are rarely accepted at ATMs, restaurants and shops.
In case you want to pay with a credit card, always choose to pay the amount in Forint and not in Euro.
Banknotes and coins – hungarian currency
Here are the different Hungarian banknotes and coins of the

Hungarian currency

: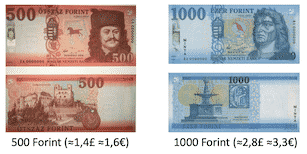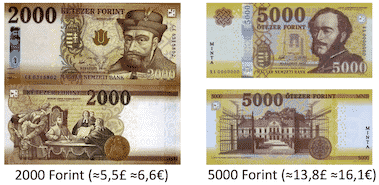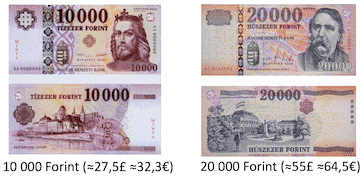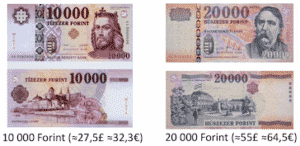 and the different coins in Hungary: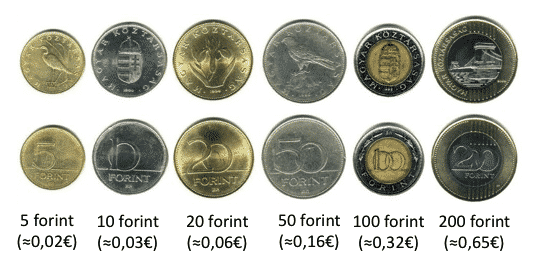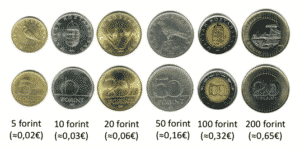 Latest new banknote

of

500 Forint was 

in 2019:
A new 500 Forint banknote (≈1.6 €= 1,4£) is in circulation in 2019 (photo below). It is quite similar to its predecessor (pictured above among the other Hungarian banknotes) which is valid only until October 31, 2019.
Warning! old banknotes of 500 Ft and 10,000 Ft expired by 2019:
The former 500 Forint banknote pictured below is accepted in stores until end of October, 2019 and the old banknote of 10,000 Forint until December 31, 2019. These old banknotes can still be exchanged for 3 years at post office and at the national bank. (The banknotes that replace them are in those shown previously).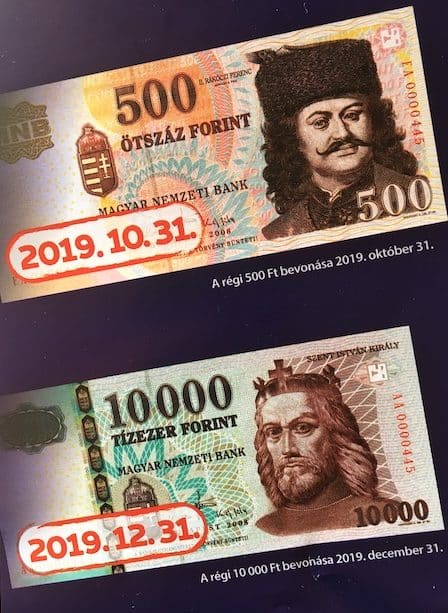 Paying in euros
There are still some places in Budapest where you cannot pay in euros, for example some market stalls, small grocery shops and bakeries, some souvenir shops and some very small restaurants and buffets. In theory, since  January 2021, all shops must accept credit cards and mobile payments, but in reality this is not always the case.
However, we recommend that you do not pay in euros in Hungary, as the conversion rates used are very often unfavourable.
Cost of living in Budapest – Hungarian currency
To help you decide how much money you should convert into forint, here are some examples of prices in Budapest in 2022:
A glass of beer usually costs around 600 Ft (less than 2€); a glass of wine costs between 700 and 1100 Ft (2-3€); a Big Mac menu at Mc Donalds costs around 1800 Ft (5-6€). In small cafés and bars you can buy a coffee for 1€. If you prefer specialised coffee shops (Costa, Starbuck's,..), an espresso will cost you about 1,5-2€. In a mid-range restaurant, you can have lunch for 10-15€.
TIPS
The 'tradition' in Hungary is to leave a tip, if you are satisfied with service and food:
10-13% in restaurants, bars.
10% for taxi rides.
300 Forint for a service at (public) toilets, petrol station,…
Finally, try to check, especially in restaurants, if the tip (10 to 13%) is already included in the bill (mostly written down in the menu).
If it is already included in the bill, there is no need to give an addtional tip.
If not, consider leaving 10-12% of the amount as tip, that is if you were happy with the service.
If you need help prepping for your visit to Budapest, do not hesitate to check out our section "Preparing your trip to Budapest" and have a look at our recommendations for a stay for 2 days,

3 days

or

4 days 

in Budapest

including the most important sightseeing activities and Must Do's in Budapest!