For more than a century, Budapest's cafés have been an important part of Hungarian daily life: a place of social, cultural or political encounters. There were more than

600 cafés in Budapest

at the beginning of the century: Budapest lived and virtually vibrated with cultural excitement in these places of inspiration.
As theaters of intellectual life, the cafés of Budapest served as a home and refuge for several generations of artists and writers.
The Hungarian writer, Dezsó Kosztolányi, used to order as follows: "Boy, ink please!"
We have selected 5 historic cafés in the Hungarian capital where you can enjoy an excellent coffee, pastry or even a meal while immersing yourself in places of inspiration.
New York Café
The Neo-Baroque New York Café was opened in 1894 and quickly became a place frequented by Hungarian writers and poets. Partly destroyed during the second world war and then 'nationalized' by the communist regime, the coffee house has been restored to its original nobility thanks to the new Italian owner, Boscolo Group which reopened it in 2006.
Considered by some media as the most beautiful café in the world, you will discover the bronze Lucifers outside evoking the many artists and intellectuals who frequented the Café and on the inside the ceiling frescoes of the nineteenth century Hungarian painters, Gusztáv Mannheimer and Ferenc Eisenhut, that rival the beauty of the extraordinary marble floors, gilding and frescoes. Enter the Café New York and discover the splendor of the Belle Epoque!
Check out a video of the New York Café in Budapest on this link.
Address: Erzsébet krt. 11, VIIth arrondissement – plan – website
Open daily from 9am to midnight.
New York Café menu.
Café Gerbeaud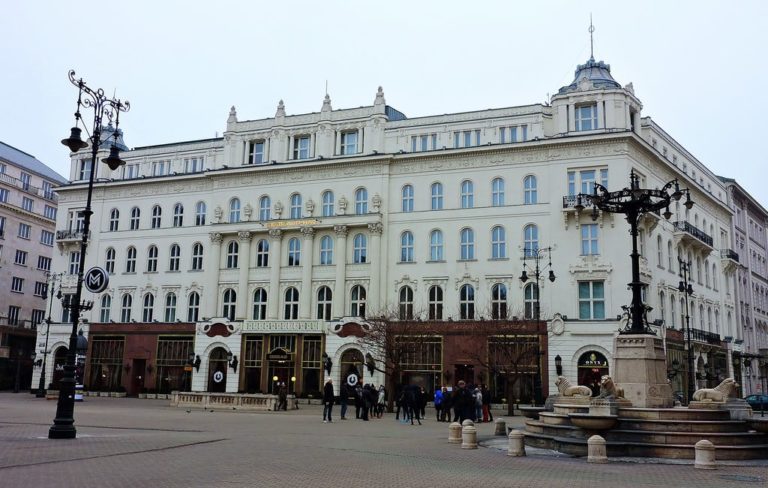 Located in Vörösmarty Square, Café Gerbeaud is an institution in the Hungarian capital and one of the oldest cafés in Budapest.
Founded in 1858, the  café is named after pastry-chocolate maker, Émile Gerbeaud, whose talent radiated from Paris to London.
The café has kept its atmosphere of the early 20th century when poets and writers spent their days in decor by Émile Gerbeaud: ceiling stucco in the Rococo style of Louis XIV, chandeliers inspired by Maria Theresa of Austria, exotic wood ornaments, bronzes and marbles.
This is one of the best addresses for Hungarian pastries such as Gerbeaud, Dobos, Esterházy cakes or our favorite apricot cake and chocolate peanut butter ('Sós mogyoró-barack'). Find out more in our article, 'Hungarian Pastries to Taste'.
Address: Vörösmarty tér 7-8, 5th arrondissement – map – website.
Open from 9:00 to 21:00.
Menu on this link
Discover the Gerbeaud Café in this video:
Café Párisi
On the prestigious Andrássy Avenue in the city center in Pest and 300 meters from the National Opera discover a gem: the Café Párisi (formerly known as Café Lotz) which reopened at the end of 2018.
Located on the 1st floor at number 39 on Andrássy Avenue, you access it by entering an impressive Art Deco facade of the former Parisian department store ('Pariszi Nagy Aruház'), cross the 'Leisure center' to access by escalator on 1st floor at Café Párisi.
In a large neo-renaissance style room, discover this spectacular Café with its unique ceiling and gold-framed walls and sumptuous frescoes.
To enjoy a coffee and a pastry or lunch, an address not to be missed!
Open daily from 9am to 9pm.
Address: Andrássy út 39, 6th round, Pest – map – website.
Menu on this link.
Café 'Párisi Passage'
Warning! a jewel of architecture has just reopened after 4 years of renovation! The Passage or Court of Paris ('Párisi Udvar'), a long arcade of the Belle Epoque now hosts a luxury hotel (Hyatt) with on the ground floor a Café, Café Párisi Passage, and Restaurant that take you back to the nineteenth century. Located in the city center near the pedestrian street Váci, a unique Café to discover!
Address: Ferenciek tere 10 – 1052 Budapest, Pest – map – website.
Open daily from 06:30 to midnight.
Central Café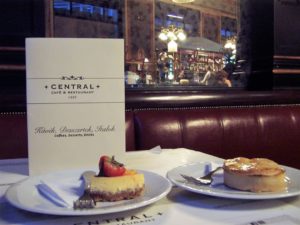 Central Café was founded in 1887 and frequented by writers and actors of the early 19th century. Located in the city center, it is an ideal place for a break any time of the day. The interior of the café was restored to the original in 1999, returning to the original brilliance of its candlesticks, paintings and furniture in precious wood.
You can enjoy many kinds of Hungarian pastries and even have a full meal.
Address: Károlyi Mihály utca 9, 5th district – map – website.
Open hours: 09:00 to 23:00 Monday to Sunday.
Menu on this link.
Discover a video of the interior of Budapest Café Central:
[do_widget id=getyourguide-widget-3]
To discover

Hungarian cuisine

in Budapest, check out our article on 'our favorite restaurants in Budapest' on this link!