The metro of Budapest, inaugurated in 1896, is composed of 4 lines operating every day from 04:30 to 23:00.
The capital Budapest has about fifty metro stations served by four metro lines. These lines are called M1 (yellow line), M2 (red line), M3 (blue line) and M4 (green line).
The Budapest metro operates with a frequency of 90 seconds to 10 minutes according to the schedule of the day.
The lines M1, M2 and M3 intersect at the station, Deák Ferenc Tér (city center in Pest). You can change lines without having to use a new ticket.
BUDAPEST METRO PLAN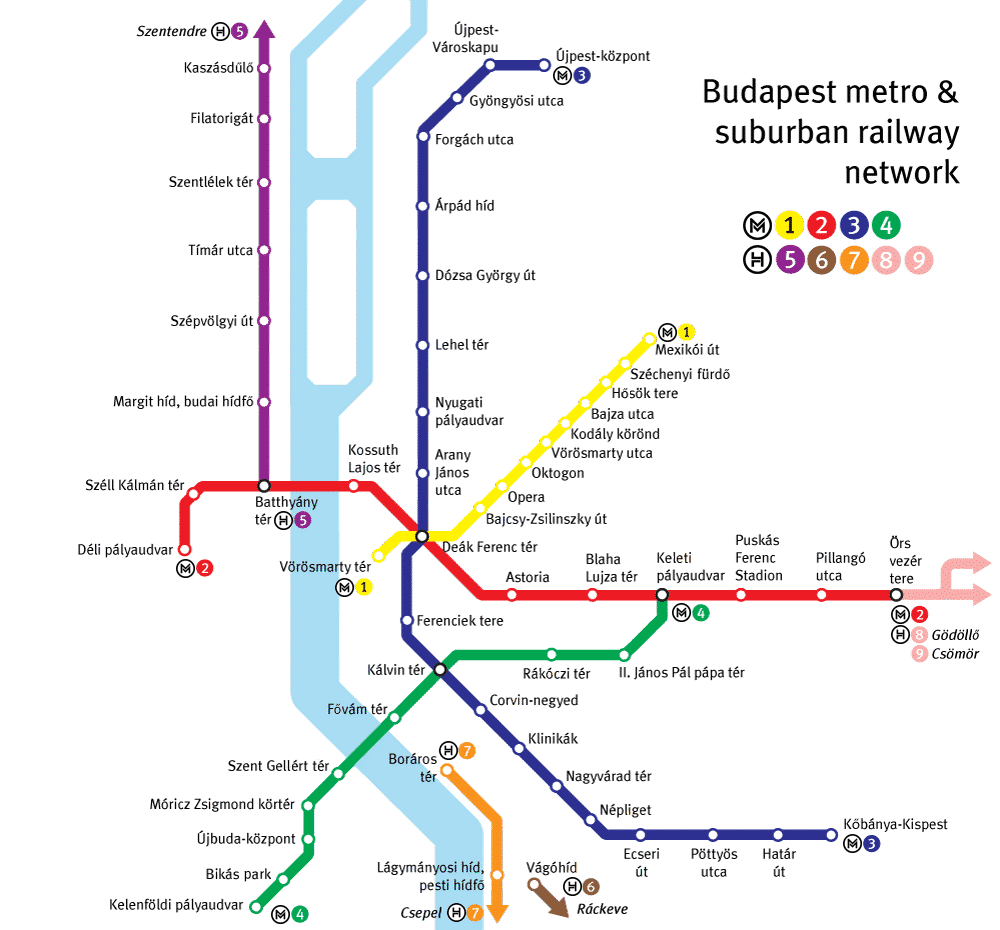 You can download a map of the Budapest Metro on this link (click on the icon at the top right).
METRO TICKET AND SUBSCRIPTION
Ticket prices:
(Tickets are common to all public transport in Budapest)

The single ticket price is 350 Forint (≈1.1 €) if you buy it at a ticket office or an automatic distributor. If bought from the bus driver, the unit price is 450 Ft (≈1,45 €).
The price of a block of 10 tickets is cheaper: 3000 Ft , 300 Ft per unit (≈0.97 €).
You can also buy a group ticket (valid for 1 to 5 people) at a price of FF 3,300 (€ 10.6) which allows you to travel at will for 24 hours, provided the people of the group travel together each time.
Unlimited use ticket price for 24h: 1,650 Ft (≈5,3 €).
Unlimited use ticket price for 72h: 4 150 Ft (≈13.4 €).
Finally, there is a ticket valid for unlimited use for 7 days, called 'Budapest-hetijegy'. It is sold at a price of 4,950 Forint (≈16 €).
Note

:
The Metro is free for over the

citizens of U.E. over 65 years of age.

There is no prior procedure or document required. However, you must always have in your possession a valid identity card during the use of public transport in Budapest.
Where to buy Budapest metro tickets?
You can buy tickets and subscriptions at counters in Budapest subway stations, in tourist offices (found at the airport and in the city center), at some newsstands (the chain, Relay, sells tickets, for example) and also from vending machines located in metro and tram stations.
The Budapest public transport single ticket priced at 350 Ft is only valid for the single use of a line, except for the metro (as long as you do not leave the underground network).
The first metro of Budapest to discover – Line M1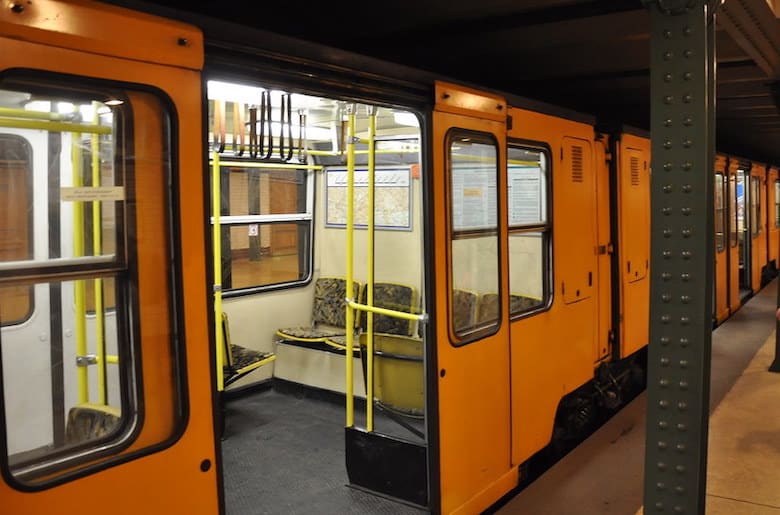 It was in Budapest that the first metro was built in 1896 in continental Europe  (the second metro in Europe after London).
This line, called M1, is composed of 11 stations over a current distance of 4.4 km.
This first metro in Budapest was built in two years for the millennium festivities of Hungary. The small subway looks like a tramway and uses shallow tunnels.
The line connects the Vörösmarty Square ('Vörösmarty tér') in the city center of Pest to the Avenue of Mexico, passing by the famous Andrássy Avenue, the location of the National Opera (The Andrássy Avenue and the metro are classified as Unesco World Heritage).
A GOOD TIP:
The Metro station Szent Gellért on the M4 line (the station located in Buda between the Liberty Bridge Szabadság Híd and the Gellért baths) is waiting to be discovered with its superb mosaics! (see photo below).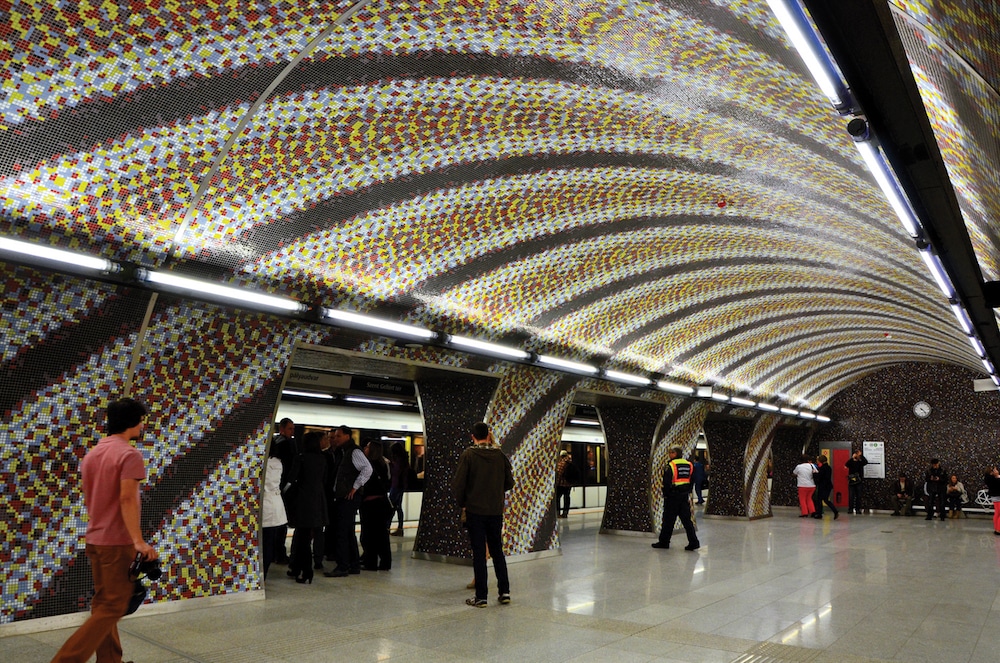 BUDAPEST CARD
A pass called the Budapest Card, offers unlimited use of public transport in the city, as well as free admission to fifteen museums, discounts of up to 50% for more than 80 monuments, events and gastronomic experiences.
There are cards at different rates: The 24h (≈18 €), 48h (≈28 €) and other (72h, 96h, 120h) cards are beneficial if you plan to visit sites that are part of the cards' reduction program.
Note that the Budapest Card does not include the use of the 100E bus that connects Budapest Airport to the city center.
Find detailed information on the benefits of the Budapest Card on this link.

If you buy your Budapest Card online in advance, you will have to "physically recover" it in Budapest to use it. You can also buy the card at 'Budapestinfo' branches:
– Budapest International Airport Terminal 2A, open from 08:00 to 22:00.
– Budapest International Airport Terminal 2B, open from 09:00 to 21:00.
– Deák Ferenc Square – 1052 Sütő utca 2, open from 08:00 to 20:00.
Other points of sale of the Budapest card are available on this link.
Also, you will find all the information you need on

public transport in Budapest

(bus, tram, trolley, metro…) in our dedicated article "Public transport in Budapest' on

this link

.