Whether you're an opera buff or not, visiting the Budapest Opera House is a must!
Located in the city center on the prestigious Andrássy Avenue, the National Opera is surrounded by numerous restaurants and luxury shops.
The Budapest Opera House is under renovation until the spring of 2019, but it is still possible to visit it during the day. Visits are organized (about 30 minutes with a 'mini concert') during the day at 15:00 and 16:00.
Information on opera visits on this official link.
The opera was built from 1875 to 1884 according to the plans of the Hungarian architect, Miklós Ybl, for the millennium celebration. Funded by Emperor Francis Joseph, his goal was to compete with the Vienna Opera and the Paris Opera Garnier. The Budapest Opera has a hundred statues and paintings while the auditorium is decorated with more than 7kg of gold.
The Exterior of the Budapest Opera
On the main facade, you will take in the statues of the greatest composers including Mozart, Beethoven and Verdi. Adorning the main entrance are statues of Franz Liszt and Ferenc Erkel, the first director of the opera and the composer of the Hungarian national anthem.
Succeeding as director of Ferenc Erkel's opera, Gustav Mahler conductor for 4 years (from 1888 to 1891).
Good tip: on the 1st floor, go to the buffet where you can access the terrace overlooking Andrássy Avenue.
The Interior of the Budapest Opera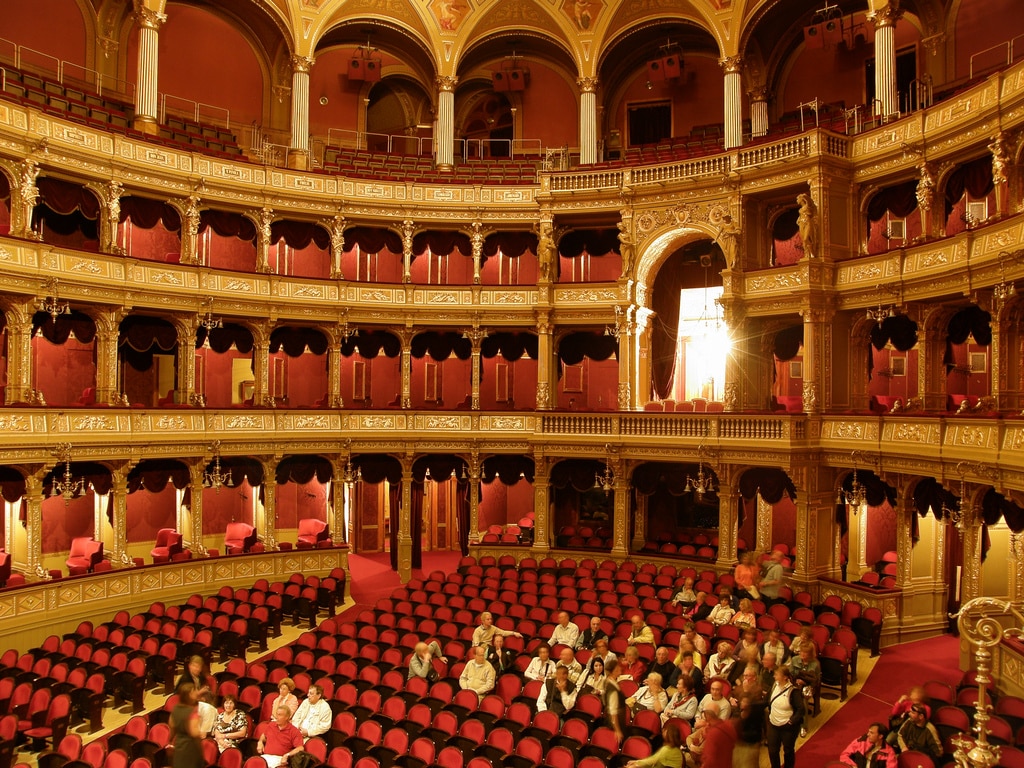 The interior is ery Impressive with gilding and statues at every turn. The rising double main staircase with its red carpet and marble columns is a unique experience.
The Budapest Opera House can accommodate more than 1,200 listeners. Composed of three floors, it boasts one of the best acoustic systems in Europe.
The shape of the main hall is called a 'horseshoe', characteristic of Italian-style rooms. On its ceiling, you can admire the fresco of Karoly Lotz representing Olympus and the Greek gods.
During intermission, do not hesitate to discover the many different rooms and the main buffet with access to the terrace on the 1st floor.
Program and tickets:
Opera and ballet performances take place from September to June.
We will update this article as soon as 2019 tickets are confirmed and available for the reopening of the Budapest Opera House (April, 2019).
Discover now a video of Budapest Opera House before its reopening:
Address of the State Opera: Andrássy út 22, 6th district, Pest – map.
Opera metro station, line M1
Also see our article on the shows and concerts of Budapest on

this link

as well as the monthly calendar of events in Budapest on

this link.