Where to go at night in Budapest?
Discover the best Ruin Bars in the

Hungarian capital!
Real institutions of Budapest, the Ruins Bars appeared in the 2000s, all located in the center of Pest. Now they are the essential entertainment spots of Budapest nightlife. They are found in abandoned buildings, often in inner courtyards and over several floors.
Each Ruin Bar has its own unique style and musical ambience. Some are decorated with old objects of the 70s, while others are more 'arty', but all will impress you with their architecture and atmosphere! You can have a drink and in some attend a concert or movie and dance to different musical styles.
The vast majority of the Ruin Bars of Budapest are in the same district as the city center, the Jewish quarter in the 7th district. So you can easily discover them one after the other on foot. In the evening from Thursday to Saturday, be patient because entrance, usually free, may require a long wait after 21:00.
Here is our selection of the best Ruin Bars in Budapest:
SZIMPLA KERT – 1st Ruin Bar in Budapest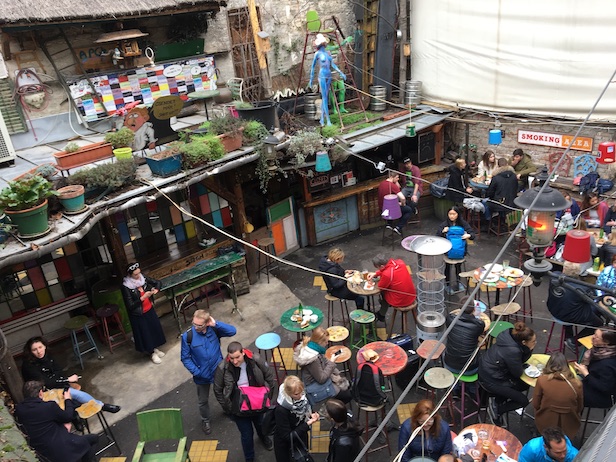 Szimpla Kert was the first Ruin Bar in Budapest, opened in 2002 in a historic building formerly occupied by apartments and a factory. This is an iconic Hungarian night spot where you can experience a unique underground atmosphere, concerts and outdoor film screenings. It is well worth it to take the time to discover each room, one more surprising than another. There is no dance floor but the huge big yard quickly becomes electric after 23:00. The Szimpla Kert can be visited quietly during the day as it hosts a farmer's market every Sunday from 09:00 to 14:00 (video on this link).
Address: Kazinczy u. 14, VIIth district, Pest – plan – website.
Open hours: from 12:00 to 04:00 from Monday to Thursday, Friday from 10:00 to 04:00, Saturday from 12:00 to 04:00, Sunday from 09:00 to 05:00. Admission is free.
INSTANT / FOGAS Ruin Pub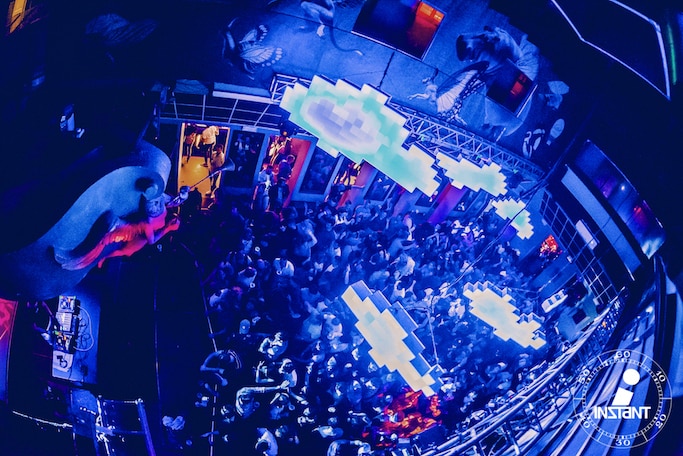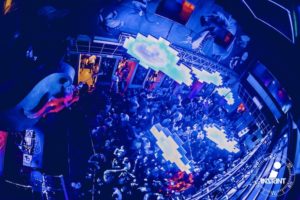 Instant and Fogas, two of Budapest's legendary Ruin Bars are now in the same space on Akácfa Street. Discover the biggest complex of the city with 15 bars and 8 dance floors over several floors and the basement! Starting on Thursday evening, you will be greeted with an exciting atmosphere (so plan to be in a long line from 23:00).
Address: Akácfa utca 49-51, VIIth district, Pest – plan – website.
Open hours: every day from 16h00 to 06h00. Free admission.
GOZSDU COURT – Budapest nightlife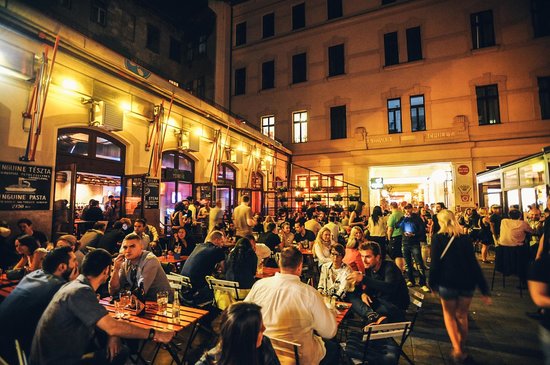 The Gozsdu Court is not itself a Ruin Bar, but it is located right in the center of the Jewish Quarter, surrounded by Ruin Bars. It is a must for your evening! In a long courtyard are linked restaurants, cafes, bars and clubs animated throughout the year by concerts and exhibitions. The DiVino Wine Bar and the Spiller Bar Restaurant are our favorites, as is Jamie's Pizzeria's Italian restaurant, owned by the famed English chef, Jamie Oliver.
From Friday to Sunday between 10:00 and 17:00, the complex hosts a small market with stalls crafts and antiques.
Address: Gozsdu udvar, Király u.13 and Dob u.16e, VIIth district, Pest – plan – website –
Open hours: non stop pedestrian crossing. Free admission.
DOBOZ – Ruin bars in Budapest
The Doboz ('the Box') is a popular Ruin bar in Budapest that hosts concerts and is quite a nightclub with 2 dance floors hosted by residents DJ's and 8 different musical styles from latin pop to hip hop. In its inner courtyard you will be greeted by a 320 year old tree and its sculpted gorilla!
Address: Klauzál u. 10, 1072 Budapest – map –
Open from Wednesday to Saturday from 17:00. Website on this link.
ÖTKERT – RUIN BAR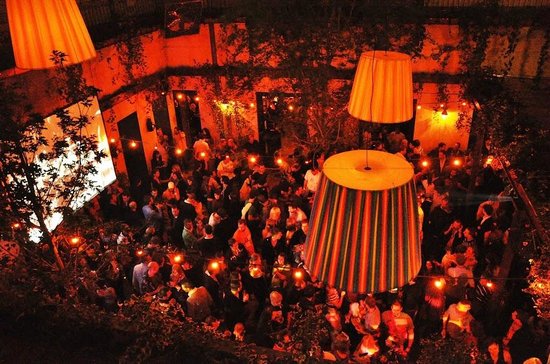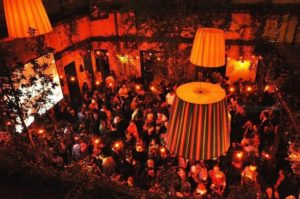 If you want to dance all night, the Ötkert is the place. It is a club and restaurant located between St. Stephen's Basilica and the Danube, in a different neighborhood from other Ruin Bars. Many concerts take place here (programming is on their website).
Address: Ötkert, Zrínyi u. 4, 5th arrondissement, Pest – plan – website.
Open  hours: daily from 11 am to midnight. Wednesday-saturday: 11 am to 5 am.
While these are not Ruin Bars, the following

are stars of Budapest Nightlife:
PONTOON BAR
Located in Pest at the foot of the Chain Bridge on the edge of the Danube, the Pontoon Bar is a magical place where you can enjoy outdoor views of amazing Buda, while you drink, eat and enjoy live concerts.
Admission is free. It is open from noon to 4 am every day (closed from October until Spring). The pontoon bar has been reopened since April 24, 2019!
Address: Pontoon Bar, Antall József rakpart 1, 5th district – plan – FB site.
AKVÁRIUM KLUB
The Akvárium club in the city center of Pest welcomes you with its huge terrace and steps on Erzsébet Square and its Park. It is an iconic place to meet at night. The club is a real cultural center that hosts exhibitions and concerts, with music appealing to the mainstream and underground. Video of the Akvárium Klub on this link.
Open from 12:00 every day.
Address: Erzsébet tér 12., 5th district – plan – website.
Before enjoying Budapest nightlife, discover our selection of Budapest restaurants on this link,

of

Best rooftops 

on

this link and our article about the best baths in Budapest on

this link

to get back in shape after your evening out!