Take advantage of your visit to Budapest to discover original activities: skate in the open air in front of the majestic castle of 'Városliget', have fun with an Escape Room, bargain at the Budapest flea market or discover the nostalgia of the pinball museum? Unusual Budapest awaits you!
Here is our selection of good tips and unique experiences in Budapest to get off the beaten track in the Hungarian capital!
Budapest's Városliget ice rink – from mid-November to the end of February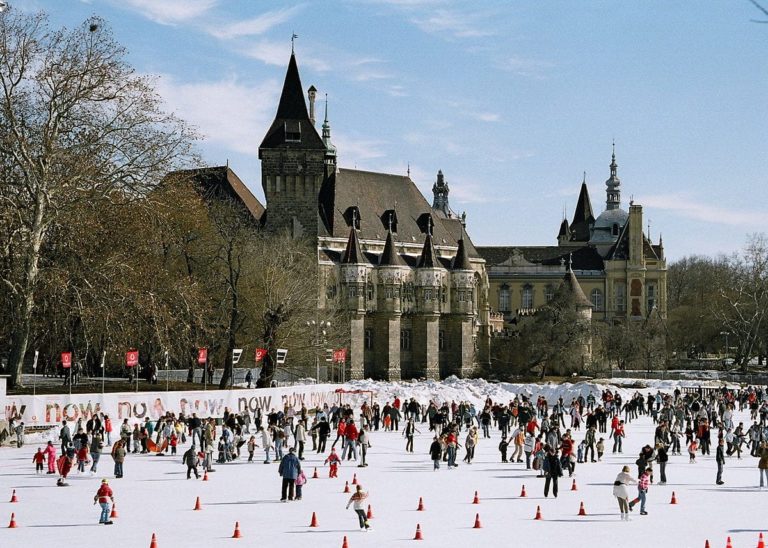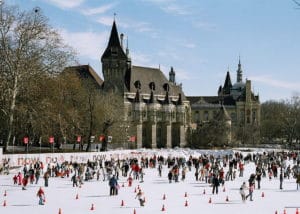 The Városliget ice rink is Europe's largest open-air ice rink, open from mid-November to the end of February, located at the edge of the 'Városliget', the largest green space in the Hungarian capital and with a magnificent view of the Vajdahunyad castle!
Opening hours: Monday to Friday from 9am to 1pm and from 5pm to 9pm; Saturday and Sunday from 9am to 1pm and from 4pm to 9pm (8pm on Sundays).
Price: 2,500 Ft (≈6,5€) per entry on weekdays until Friday noon, then 3,500 Ft on weekends (≈8,5€). Skate rentals: 2000 Ft (≈5€) – Website – Map.
Address: Városliget ice rink, Olof Palme sétány. 5, 14th district.
Discover the Városliget ice rink with this great video:
ESCAPE ROOMS IN BUDAPEST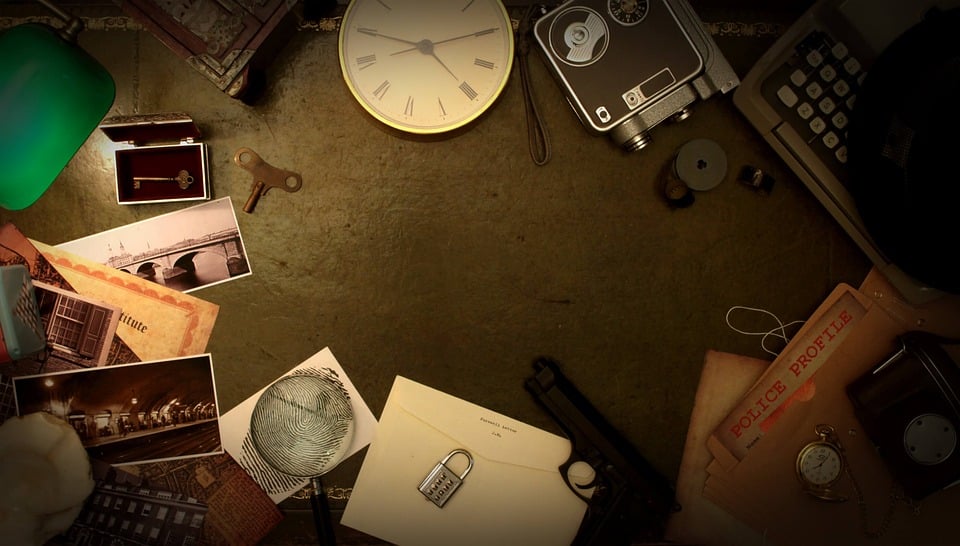 Escape Rooms or Escape Games are life-size escape games: you are locked in one or more rooms for 1 hour and have to solve riddles, find clues to get out as quickly as possible before the time runs out. You can usually participate in teams of 2 to 8participants. The organizer can help you at any time thanks to a camera monitoring.
Europe's first Escape room appeared in 2011 in Budapest and there are more than 100 escape rooms in Budapest. One of our favourites is the 'Mystique Room' with its rooms 'The Pharaoh's Funeral Chamber 1' (observed price for a group of 4 people: around €45). Let yourself be tempted by this good deal!
Discover our article on the best escape rooms in Budapest on this link.
BUDAPEST FLEA MARKET – ECSERI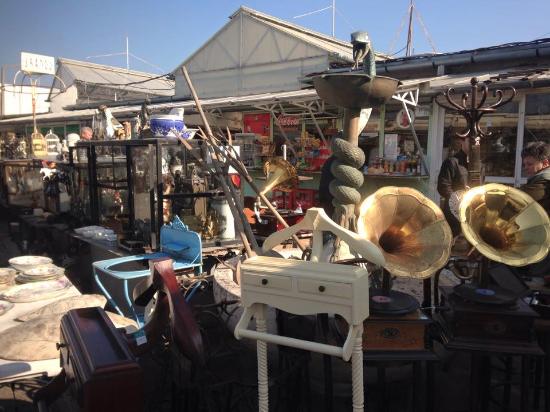 This Budapest Flea Market is located on the outskirts of the capital but is well worth a visit for those who love antiques, vintage and unusual items in Budapest. You will find furniture, porcelain, paintings, military items and many other objects from the last century.
You can get there by bus 54: use the Budapest public transport route planner.
Opening hours: Monday to Friday from 08:00 to 16:00 (8:00-15:00 on Saturday, 8:00-13:00 on Sunday) – FB site.
Address: Budapest Flea Market Ecseri, Nagykőrösi út 156 , 19th district, Pest – Map –
BEERSPA Session at the Széchenyi baths
Discover the BeerSpa: Relax for 45 minutes in 36 degree thermal water enriched with malt, hops and yeast. At the same time, you can drink as many pints of beer as you like thanks to the taps on the side of the vats! (High quality craft beer with 4% alcohol). You can also enjoy an entrance to the Széchenyi bath complex before or after your BeerSpa for as long as you like:
Information Beer Spa + entrance to Széchenyi baths,  Tickets – click here
Address: Széchenyi Baths, Állatkerti krt. 9-11, XIVth arrondissement, Pest – map.
Open hours: from 06:00 to 22:00 every day (indoor thermal baths open from 06:00 to 19:00). The baths are open all year.
Budapest RiverRide the Floating Bus, Sightseeing on Land and Water – unique experiences in Budapest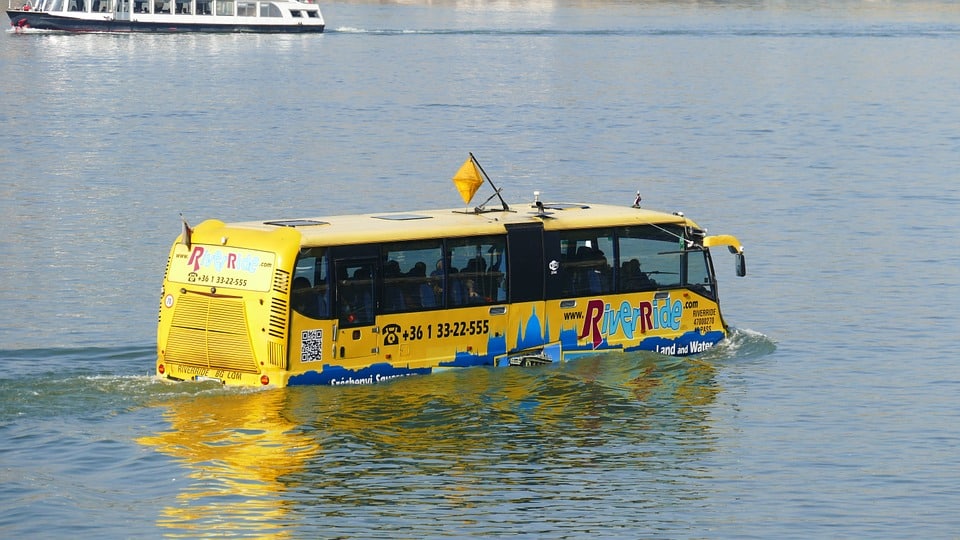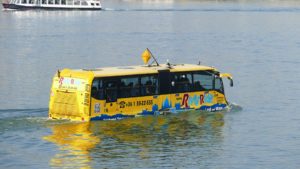 You can do the sightseeing of Budapest on land and also on water, thanks to a special floating bus! With the same vehicle you can explore all the important sites of the city. This way it is more fun, and also saves you time from if you would go on a bus on separately on a boat to explore the city.
Informations floating Bus and Tickets – click here
Address: Departure Point – Széchenyi István tér 7, 5th district, Pest. – Map –
CAVING IN BUDAPEST – unique experiences in Budapest
Embark on an exhilarating adventure in the Pálvölgyi Caves of Budapest. With the help of a guide experience the thrill of underground exploration by climbing, crawling and manoeuvring in tight spaces. This unique 2.5-3h activity accepts a maximum of 10 participants:
Caving Experience Information and Booking – click here
1.5-Hour Fun Segway Sightseeing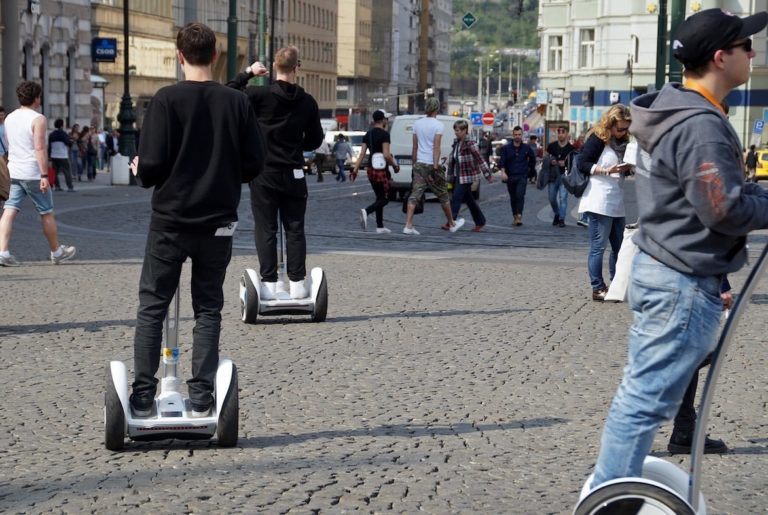 A Downtown Segway tour in Budapest gives you the ease of exploring the city on wheels in just 90 minutes while still enjoying being outside in the open air. The guide's insightful commentary will make your experience unforgettable:
Information Budapest Segway Tour and booking – click here
Budapest Pinball Museum – unique experiences in Budapest
Pinball paradise at the heart of Europe! The Budapest Pinball Museum is the largest permanent exhibition of pinball machines in Europe where you can try out 140 pinball machines! The museum offers you unlimited games on the pinball machines of your choice!
Information Budapest Pinball Museum and Ticket – click here
Opening hours: closed Monday and Tuesday, Wednesday-Friday: 16:00-24:00, Saturday: 14:00-24:00, Sunday: 10:00-22:00.
Address: Pinball Museum, Radnóti Miklós u. 18, 13th district, – Map.
Buda castle: History and Myths Evening Walking Tour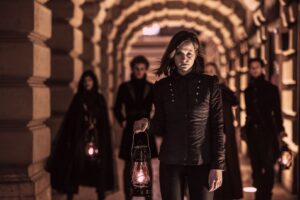 Join your Gothic-attired guide as they take you on a 2-hour walking tour of the city by night. Learn the history of Old Hungary where, according to legend, "vampires" were born and roamed the streets during this dark period of European history.
Buda Castle: History & Myths Evening Walking Tour Information
and Booking  – click here
Luxury cruise in Budapest on a private boat
Do you want to live a unique experience? Celebrate an event?
Discover Budapest with a Venetian limousine boat for an unforgettable experience. You can take a private tour of 50 minutes on a luxury boat just for you, day or night. The boat can accommodate 10 people maximum. The slow navigation allows you to admire the numerous monuments while a high speed can be requested for an adrenaline rush!  Discover a 2nd video on this link!
Luxury cruise and booking information – click here
CAFÉ PAGONY – unique experiences in Budapest
A drink or a meal in an empty swimming pool? Café Pagony has taken up residence in the former children's pools of the Gellért Baths.
A good idea in an original setting to discover after a visit to the Gellért Baths!
Opening hours: every day from 12.00 to 22.00 – Website –
Address: Café Pagony, Kemenes u. 10, 11th district – Map.
3-Course Dinner Cruise and Piano Battle Show
Spend an evening cruising along the Danube River through the heart of Budapest. Choose from just drinks or a 2, 3, or 6-course dinner with menu choices and an entertaining piano battle show. See the sights of Budapest illuminated after dark.
Information Dinner Cruise/Piano Battle Show and booking – click here
Hungarian Chimney Cake Workshop (45mn) – unique experiences in Budapest

Prepare, bake and try your own chimney cakes as a part of this unique workshop in the heart of Budapest. Learn about the history and tradition of the most beloved Hungarian dessert:
Information Chimney Cake workshop and Booking – click here
Medieval dinner and show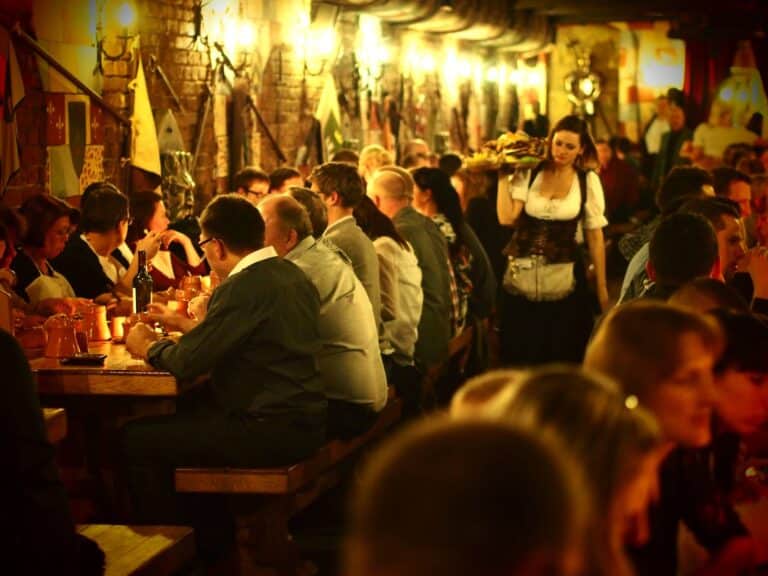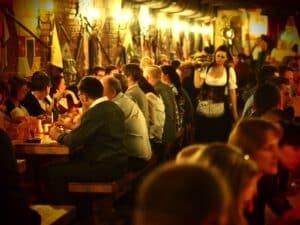 Spend an evening in the heart of Budapest enjoying a medieval Hungarian dinner in a warm setting and atmosphere. Be entertained by a show that includes swordsmen, jugglers and belly dancers, all accompanied by music. A fun and festive experience with several menus available:
Medieval Dinner Show information and booking – click here
You can also find the main monuments of Budapest to visit in our article on the must-sees of Budapest on this link and our recommendations to

visit Budapest in 2 days

,

3 days

and

4 days

.