Are you getting up a little late, too late you might think, to have breakfast? Do you want to celebrate an event? or just enjoy a unique lunch? treat yourself to a brunch in Budapest!
The best Brunch in Budapest: we have selected 9 brunch/breakfast for their quality/price/setting. This article was updated in June 2023.
RESTAURANT DNB BUDAPEST – SUNDAY BRUNCH

The DNB Budapest restaurant is the restaurant of the 5-star Budapest Marriott Hotel, located in city center along the Danube. The Sunday brunch is an all-you-can-eat buffet of international and Hungarian cuisine with drinks included (sparkling wine, wine, beer, soft drinks and coffee) offered every Sunday for the best value for money in Budapest!
In a large space with a relaxed and elegant atmosphere, you will be welcomed and accompanied by an attentive and efficient team where the notion of service is really present. But it's above all the wide variety of dishes on offer and their quality that make this buffet such a great value.
We loved the Angus beef carpaccio, the Goose liver paté, the smoked duck breast, the assortment of sushi, the whole Angus beef sirloin from the carving station, the chicken Sish taouk, the mahi mahi fish and the many vegetables and salads.
And please, save your strength for the cheeses (excellent) and the many delicious cakes and desserts! For children, there is a special room with a games area, and their favourite dishes await them at the buffet.
Our tip: book on the terrace or inside next to the windows to enjoy a unique view of Buda and its castle.
Address: DNB Budapest, Apáczai Csere János u. 4, Budapest Marriott Hotel. 5th district, Pest – map – website – Brunch every Sunday from 12:00 to 15:00. Tel: +36 20 444 6169 , reservation strongly recommended!
MATILD CAFÉ & CABARET SUNDAY BRUNCH

Discover an iconic historical place in Budapest with the brunch at Café Matild & Cabaret. After 5 years of renovation, this two-storey café was restored to its former glory in 2022: created more than a century ago, this café located within the UNESCO World Heritage Matild Palace is a sight to behold with its unique Art Deco interior design. You'll feel like you're back to 'The Belle Epoque', lulled by the melodies of the live band.
The Sunday brunch is a large and varied all-you-can-eat buffet with delicious dishes prepared by the famous star chef Wolfgang Puck and his team. The Austrian-born American chef has conquered Hollywood with his restaurant Spago and has been preparing the gala dinners at the Oscars for more than 16 consecutive years.
International brunch classics, local specialities and recipes by chef Wolfgang Puck await you for a culinary journey: croissants as you like them in Paris, you lunch in Italy thanks to homemade meatballs with spaghetti from chef Wolfgang Puck's recipe, in Japan with delicious Teriyaki salmon. Meat lovers will not be disappointed either with, among other things, the braised short rib with smoked Pineapple BBQ and the fantastic roasted Black Angus Sirloin cut in front of you!
The dessert buffet impresses with its choice and quality: chocolate Tonka Tart, passion Mint Profiterole and our favourite, the Matild Cake (hazelnut sponge, cream and liqueur, almond marzipan, milk chocolate glaze!). Children will also find their culinary happiness and a playful workshop with animators is also waiting them.
Address: Matild Café & Cabaret, Váci utca 36, 5th district – Pest – map – website. Every Sunday from noon to 3 pm. Reservation by phone +36 70 407 1600 or by email ([email protected]) or on this link.
RITZ-CARLTON SUNDAY BRUNCH
Brunch at the luxury Ritz Carlton Hotel in Budapest is held in the impressive and beautiful 'Kupola Lounge' with its stained glass cupola and grand crystal chandelier. The atmosphere in this elegant, historic and modern setting is chic, cosy and relaxed. The staff is very attentive and caring and you will feel pampered from the moment you arrive. After your welcome drink, you can start with a seafood platter before moving on to the Italian-inspired starter buffet.
The main courses are ordered à la carte: easy to share portions that allow you to travel and discover several seasonal dishes: beef wagyu, crusted salmon with saffron risotto, balsamic octopus among others. All your taste buds will be delighted and surprised by the quality and diversity of the dishes on offer, worthy of a Fine Dining restaurant tasting menu.
Our tip: to end on a high note, save your strength for the dessert buffet: you will be delighted by the delicious pastries of the pastry chef István Mázás and his iconic Royal Chocolate cake.
Address: The Ritz-Carlton, Erzsébet tér 9-10, 5th district, Pest. – map – website. Brunch every Sunday. Reservations at +36 1 429 56 53 or by email at [email protected]
ÉS BISZTRÓ BRUNCH

És Bisztró restaurant in Budapest's luxury Kempinski Hotel awaits you every Sunday with its 'Sunday Family Table'. In a casual, stylish bistro setting, this restaurant with Viennese and Hungarian specialities offers an all-you-can-eat drinks menu, live music and a dedicated children's area.
The brunch menu starts with an assortment of cold starters served at the table, which can be complemented with the vegan corner on the buffet and assorted antipasti.
You are then taken on a journey to Vienna where you are served the legendary Viennese 'Tafelspitz' (beef soup with prime boiled beef, potatoes and vegetables).
The seasonal main courses can be ordered à la carte (as much as you like) and will satisfy even the most discerning palate: Viennese schnitzel, BBQ salmon, saddle of venison, rib eye steak and king prawns among others.
Our advice: don't miss the red meat (venison and rib eye) which has an incredible texture and taste!
To finish your meal, discover the dessert buffet and Hungarian pastry specialities such as somlói galuska, chestnut puree or Eszterházy cake.
Address: És Bisztró, Déak Ferenc utca 12, 5th district, Pest. – map – website. 'Sunday Family Table' every Sunday. Reservations at +36 (20) 474 5000 or by e-mail at: [email protected]
CAFÉ BRUNCH BUDAPEST
Café Brunch Budapest located on the square "Fővám tér", opposite the Grand Central Market, offers every day of the week from 08:00 a.m. breakfast and brunch served à la carte. You will find all the specialties for a breakfast: smoothies, omelette, scrambled eggs, eggs Benedict, avocado toast, French toast, sandwiches and bagels, pancakes and pastries among others.
We particularly appreciated the large size of the dishes and the quality and freshness of the ingredients (the breads and desserts are produced by their own bakery). Quality dishes (vegetarian, lactose-free and gluten-free options available), a friendly terrace and a relaxed and attentive service await you!
Café Brunch Budapest also offers soups and salads from 11:30 and there are now 5 Café Brunch restaurants in Budapest city center (addresses on this link).
Address: Café Brunch Budapest, Fővám tér 2-3, 5th district – map – website.
Opening hours: open from 08:00 to 16:00 every day.
STIKA gastropub – brunch in Budapest

Stika is a trendy breakfast restaurant/bar in the Jewish Quarter. A gastro menu, a small green interior (with a large terrace on sunny days), and waiters in bow ties have given it a reputation as the best breakfast in town.
Reasonable prices and a hype atmosphere have made it a Budapest staple.
Stika does not take reservations for breakfast and you will probably have to wait for a table in the morning, especially on weekends.
Address: STIKA, Dob u. 46/a, 7th district, Pest – map – website.
Open every day from 08:00 to 16:00 (18:00 on Sundays). Menu on this link.
tel: +36 30 1 869 870.
GERLÓCZY café restaurant – Breakfast in Budapest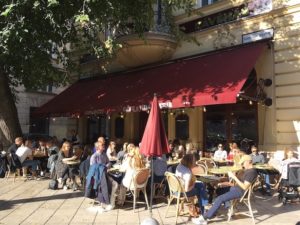 The Gerlóczy restaurant and café (which also houses a boutique hotel) recreates the atmosphere of Parisian cafés with French and Hungarian flavoured cuisine. Located on a small square away from traffic and noise, it is a real oasis in the centre of Pest! Enjoy its terrace on a nice little square in the quiet of the first sunbeams! Ideal for a break, a breakfast or a friendly meal.
Address: Gerlóczy, Gerlóczy u. 1, 5th district, Pest – map – website.
Opening hours: daily from 07:30 to 23:00.
SOLID bar – Brunch in Budapest
SOLID is a wine bar and restaurant located on the 7th floor on the roof of the Rum Boutique Hotel (restaurant visible at the end of the video above). The place has huge windows all around, which offer an impressive view of Budapest. A classic breakfast and brunch menu awaits you in this cosy rooftop in the city centre!
Address: Solid, Királyi Pál utca 4, Pest – map – website – tel: +00 36 70 333 2113
Breakfast every day on weekdays from 7:00 to 12:00.
Brunch on weekends from 11:00 to 14:00. Reservation recommended. Menus on this link.
Déryné Bistro – Brunch in Budapest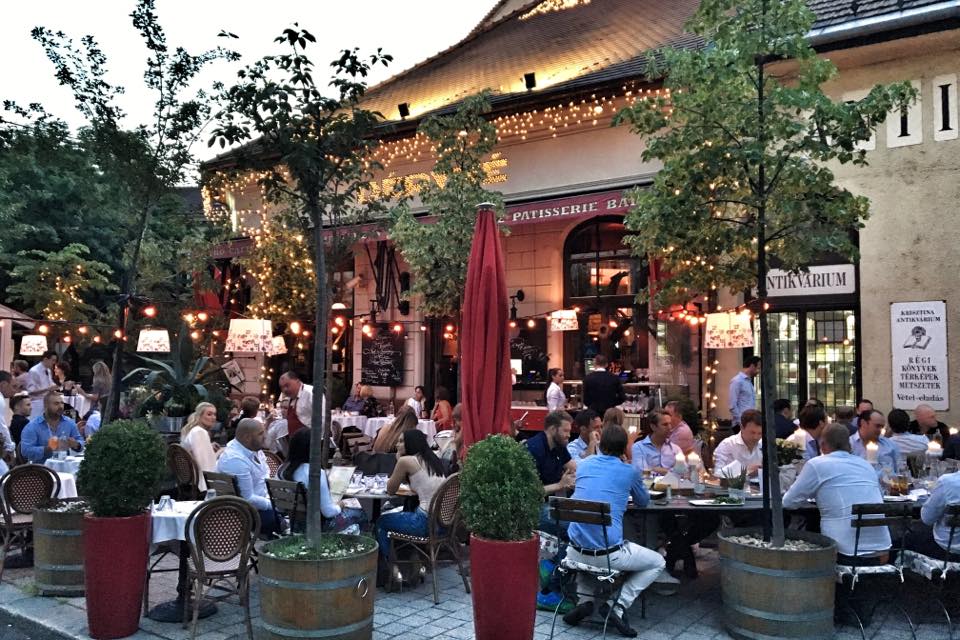 The bistro Déryné is the 'hype' brasserie in Buda. In a cosy and varied setting or on the terrace, discover a menu that combines Hungarian and French accents.
For Déryné, brunch is a way of life: wake up late, go down to Déryne, start with a glass of prosecco, order salmon, continue with a rich and appetizing butter brioche or a divine omelette, flirt with avocado toast on sourdough bread, and then after a break, continue with a divine chicken soup and chickpeas with paprika. All this until 4pm, while the café buzzes with people, friends, children and a happy atmosphere. Classic brunch selection from 9am to late afternoon.
Every Sunday after 2pm, local DJs spin records and create a real party within the café walls. Come for lunch or just as an afternoon activity, after lunch with your friends for a drink.
Address: Déryné, Krisztina tér 3, 1st district, Buda – map – website.
Opening hours: Monday to Thursday from 07:00 to 24:00, Friday 7:30-01:00, Saturday 9:00-01:00, Sunday 9:00-0:00. Prices: €€/€€€
Tel: 00 36 1 225 1407 (reservation strongly recommended).
Also check our article about our

selection of restaurants in Budapest

on this link.
For your visit to Budapest, don't hesitate to consult our section with all our advices for

'Preparing your trip to Budapest'

on

this link

and our detailed itinerary recommendations to

visit Budapest in 2 days

,

3 days

or

4 days

.