You get up a little late, too late do you think to have breakfast?  Opt for a brunch in Budapest!
Brunch in Budapest: we have selected 6 brunch/breakfast for their quality/price/setting. This article was updated in April 2022.
DNB BUDAPEST RESTAURANT – Brunch with buffet
DNB Budapest is the restaurant of the luxury Marriott Hotel, located in Pest along the Danube. It is now one of the few restaurants in Budapest that offers an all-you-can-eat buffet every Sunday of international and Hungarian cuisine with drinks included (including various wines) for about 35 euros per person.
Our tip: book on the terrace or inside by the bay windows to enjoy a unique view of Buda and its castle.
Adress: DNB Budapest, Apáczai Csere János u. 4,  Hotel Marriott. 5th district, Pest – map – website – Brunch every Sunday from 12:00 to 15:00.
Tel: +36 20 444 6169 , reservation strongly recommended!
A LA MAISON PEST – brunch in Budapest

À la Maison Pest is a specialised breakfast restaurant in the city centre of Pest near the pedestrian street Váci. Located in a splendid Art Nouveau building dating from 1906, it offers croque madame, eggs florentine, French, New York and other breakfasts in a chic and relaxing setting. Reservations are strongly recommended at weekends. There is a second restaurant, A la maison Buda, located in Buda in the 12th district.
Adress: A la Maison Pest, Szervita tér 3, 5th district – map – website.
Open every day from 08:00 to 17:00. Menu on this link.
Tel:+00 36 20 618 7580 Mail: [email protected]
STIKA gastropub – brunch in Budapest

Stika is a trendy breakfast restaurant/bar in the Jewish Quarter. A gastro menu, a small green interior (with a large terrace on sunny days), and waiters in bow ties have given it a reputation as the best breakfast in town.
Reasonable prices and a hype atmosphere have made it a Budapest staple.
Stika does not take reservations for breakfast and you will probably have to wait for a table in the morning, especially on weekends.
Address: STIKA, Dob u. 46/a, 7th district, Pest – map – website.
Open every day from 08:00 to 16:00 (18:00 on Sundays). Menu on this link.
tel: +36 30 1 869 870.
GERLÓCZY café restaurant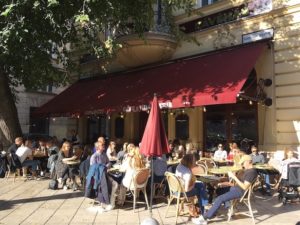 The Gerlóczy restaurant and café (which also houses a boutique hotel) recreates the atmosphere of Parisian cafés with French and Hungarian flavoured cuisine. Located on a small square away from traffic and noise, it is a real oasis in the centre of Pest! Enjoy its terrace on a nice little square in the quiet of the first sunbeams! Ideal for a break, a breakfast or a friendly meal.
Address: Gerlóczy, Gerlóczy u. 1, 5th district, Pest – map – website.
Opening hours: daily from 07:30 to 23:00.
SOLID bar – Brunch in Budapest
SOLID is a wine bar and restaurant located on the 7th floor on the roof of the Rum Boutique Hotel (restaurant visible at the end of the video above). The place has huge windows all around, which offer an impressive view of Budapest. A classic breakfast and brunch menu awaits you in this cosy rooftop in the city centre!
Address: Solid, Királyi Pál utca 4, Pest – map – website – tel: +00 36 70 333 2113
Breakfast every day on weekdays from 7:00 to 12:00.
Brunch on weekends from 11:00 to 14:00. Reservation recommended. Menus on this link.
Déryné Bistro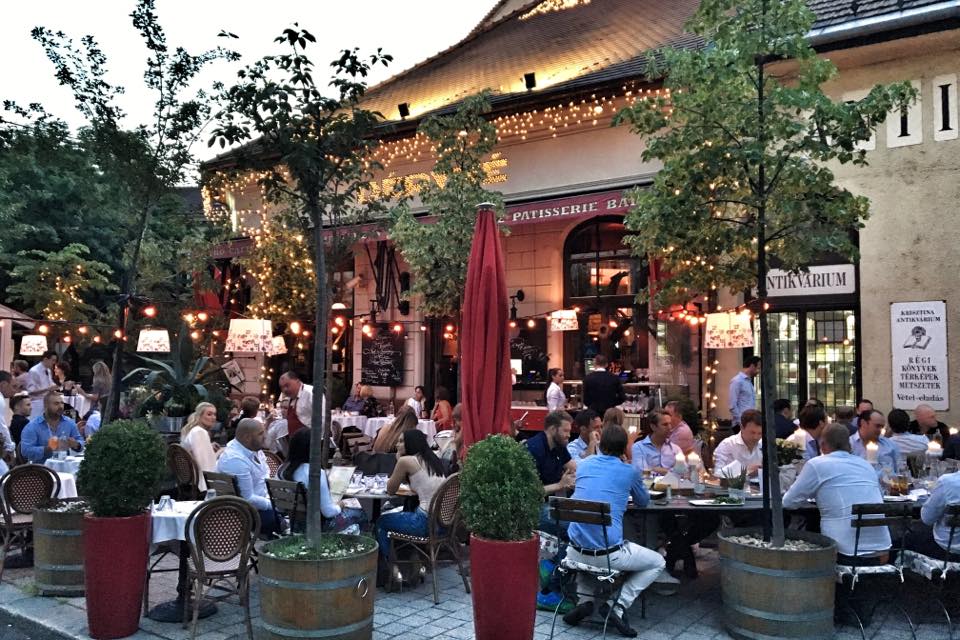 The bistro Déryné is the 'hype' brasserie in Buda. In a cosy and varied setting or on the terrace, discover a menu that combines Hungarian and French accents.
For Déryné, brunch is a way of life: wake up late, go down to Déryne, start with a glass of prosecco, order salmon, continue with a rich and appetizing butter brioche or a divine omelette, flirt with avocado toast on sourdough bread, and then after a break, continue with a divine chicken soup and chickpeas with paprika. All this until 4pm, while the café buzzes with people, friends, children and a happy atmosphere. Classic brunch selection from 9am to late afternoon.
Every Sunday after 2pm, local DJs spin records and create a real party within the café walls. Come for lunch or just as an afternoon activity, after lunch with your friends for a drink.
Address: Déryné, Krisztina tér 3, 1st district, Buda – map – website.
Opening hours: Monday to Thursday from 07:00 to 24:00, Friday 7:30-01:00, Saturday 9:00-01:00, Sunday 9:00-0:00. Prices: €€/€€€
Tel: 00 36 1 225 1407 (reservation strongly recommended).
Also check our article about our

selection of restaurants in Budapest

on this link.
For your visit to Budapest, don't hesitate to consult our section with all our advice for

'Preparing your trip to Budapest'

on

this link

and our detailed itinerary recommendations to

visit Budapest in 2 days

,

3 days

or

4 days

.