Are you looking for activities for children in Budapest?
The Hungarian capital offers many opportunities that appeal to all ages!
Here is our selection of family activities in Budapest!
BUDAPEST ZOO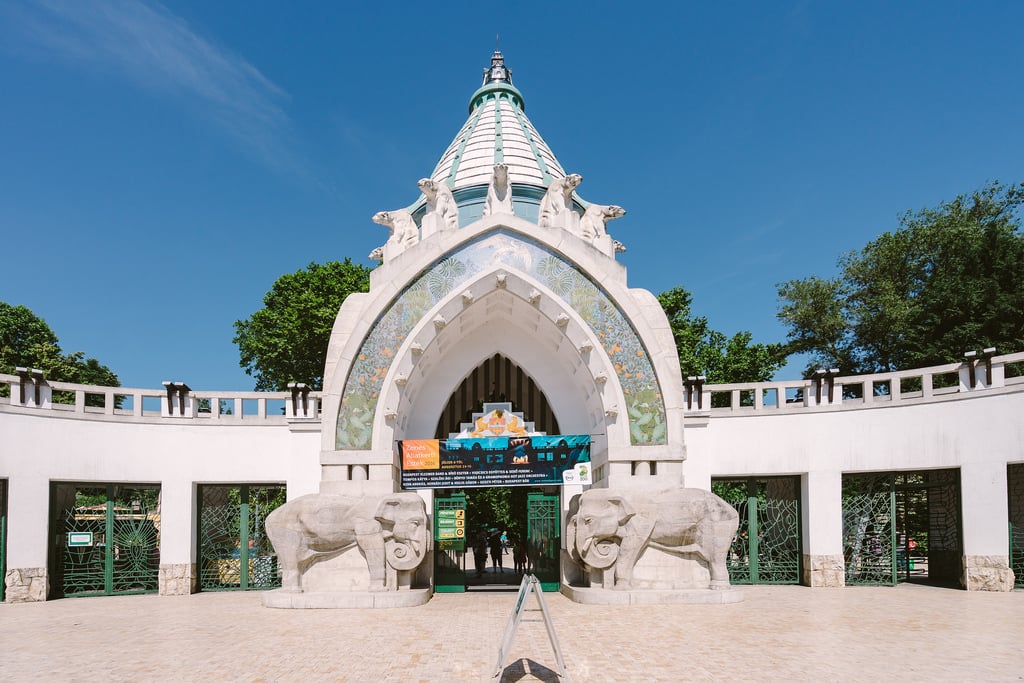 The Budapest Zoo is located in the City wood ('Városliget') near the Széchenyi Baths. Founded in 1866, the zoo is one of the oldest in the world and has been renovated over its 150-year history. A real institution for children in Budapest, they will discover more than 1000 species including lions, giraffes, elephants, monkeys, and crocodiles, among others.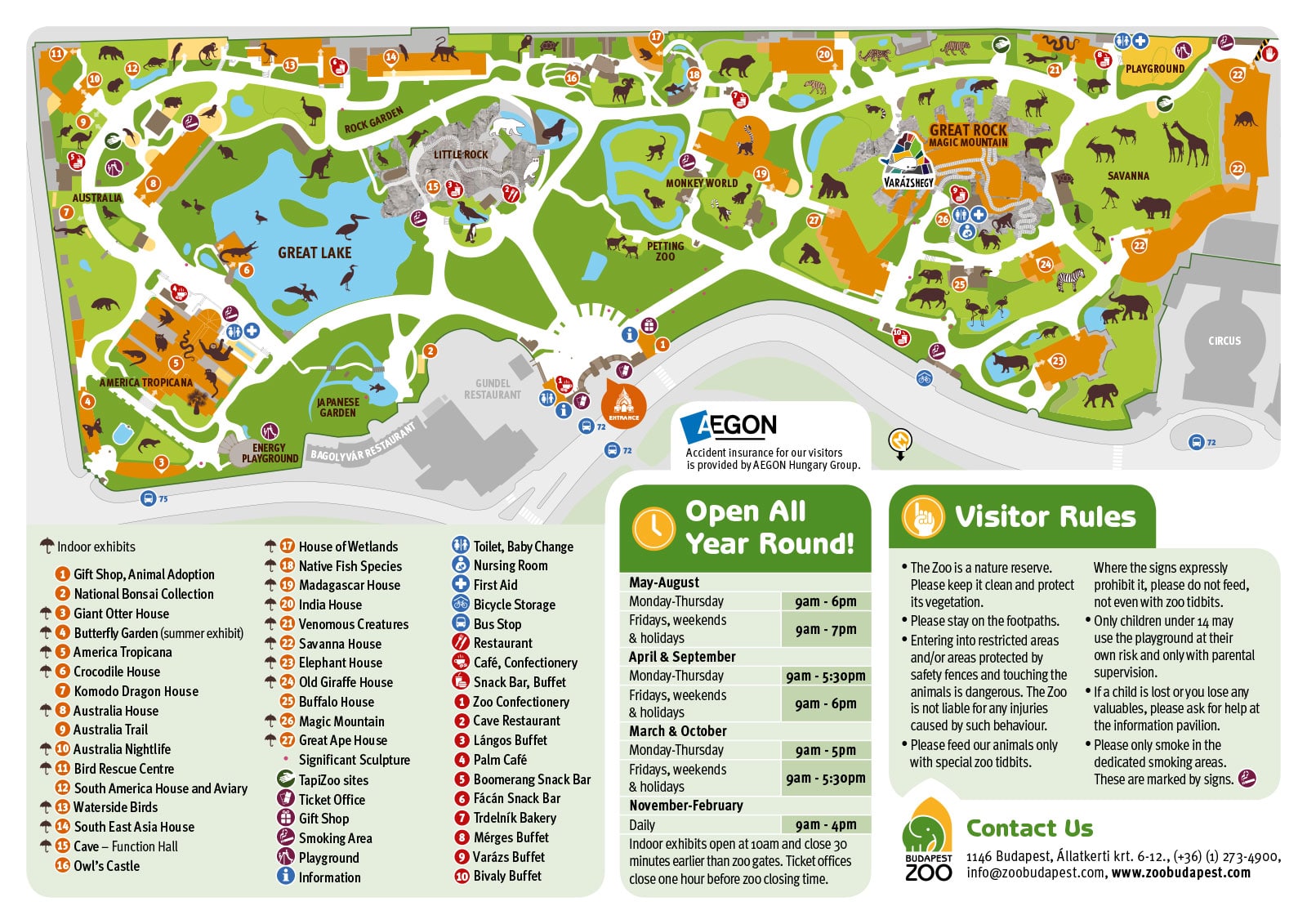 Address: Budapest Zoo, Állatkerti krt. 6-12, 14th district, Buda – plan – website.
Public transport: Metro line M1 stop "Széchenyi Fürdő" then a 2-minute walk
By bus trolley 72, stop "Állatkert".
Open hours: between 09h00 and 17h30 every day, varies according to the month: link with complete schedules. Discover a video of the Budapest Zoo on this link.
PALATINUS BATHS – children in Budapest
Opened in 1919, the Palatinus baths on Margaret Island were Budapest's first outdoor baths. They offer a dozen pools including giant slides, a wave pool, hot baths, thermal baths and saunas in a park with an area of ​​75,000 m2.
This aquatic complex offers many popular activities that will delight children in Budapest. The outdoor baths are open from June to mid-September.
Address: Palatinus bath, Margitsziget,Soó Rezső stny. 1, 1007 – map – website.
Open hours: every day from 9 am to 7.0pm.
GREAT CIRCUS OF BUDAPEST
The Great Circus of Budapest is located in Buda in the City Wood ('Városliget') near the Zoo and Széchenyi Baths. The shows are revamped every 3-4 months and accompanied by a full orchestra and featuring Hungarian and international circus artists. A performance lasts about 70 minutes and will delight young and old!
Entry price for children: from 5 to 10 € (according to positions of places) and 5 to 15 € for adults.
Address: Great Circus of Budapest, Állatkerti krt.12, 14th district, Pest – plan – website.
Open hours: show at 15:00 on weekdays, several performances on weekends: see calendar on this link. You can also buy on the numbered places on this site.
Budapest RiverRide the Floating Bus, Sightseeing on Land and Water

You can do the sightseeing of Budapest on land and also on water, thanks to a special floating bus! With the same vehicle you can explore all the important sites of the city. This way it is more fun, and also saves you time from if you would go on a bus on separately on a boat to explore the city!
Informations floating Bus and Tickets – click here
Address: Floating Bus Departure Point :Széchenyi István tér 7, 5th district, Pest. – Map –
TROPICARIUM BUDAPEST
The Tropicarium in Budapest is an aquatic zoo whose main attraction is a large shark aquarium. You can discover many species including alligators, reptiles, insects, exotic birds and many kinds of fish. Note: every Thursday at 15:00 the sharks are fed by divers. The Tropicarium is located in the Campona Mall.
Address: Tropicarium, Nagytétényi 37-43, XXII District, Buda – map – website.
Open hours: daily from 10:00 to 20:00.
ESCAPE ROOMS IN BUDAPEST

Escape Rooms or Escape Games are life-size escape games: you are locked in one or more rooms for 1 hour and have to solve riddles, find clues to get out as quickly as possible before the time runs out. You can usually participate in teams of 2 to 8participants. The organizer can help you at any time thanks to a camera monitoring.
Europe's first Escape room appeared in 2011 in Budapest and there are more than 100 escape rooms in Budapest. One of our favourites is the 'Mystique Room' with its rooms 'The Pharaoh's Funeral Chamber '  (price for a group of 4 people: around €45). Let yourself be tempted by this good deal!
Discover our article on the best escape rooms in Budapest on this link.
Budapest Pinball Museum
Pinball paradise at the heart of Europe! The Budapest Pinball Museum is the largest permanent exhibition of pinball machines in Europe where you can try out 140 pinball machines! The museum offers you unlimited games on the pinball machines of your choice!
Information Budapest Pinball Museum and Ticket – click here
Opening hours: closed Monday and Tuesday, Wednesday-Friday: 16:00-24:00, Saturday: 14:00-24:00, Sunday: 10:00-22:00.
Address: Pinball Museum, Radnóti Miklós u. 18, 13th district, – Map.
Buda castle: History and Myths Evening Walking Tour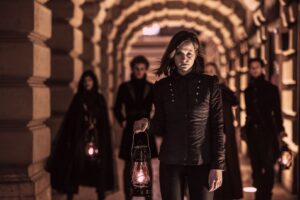 Join your Gothic-attired guide as they take you on a 2-hour walking tour of the city by night. Learn the history of Old Hungary where, according to legend, "vampires" were born and roamed the streets during this dark period of European history.
Buda Castle: History & Myths Evening Walking Tour Information
and Booking  – click here
AQUAWORLD – children in Budapest
Aquaworld in Budapest is one of Europe's largest covered water theme parks with more than 20 pools, 11 slides, wave and surf pools, and a wellness area for parents.
Its location is about 15km from the city center.
Address: Aquaworld, Íves út 16, 4th district, Pest – map – website.
Open hours: daily from 10:00 to 21:30.
Medieval dinner and show – with children in Budapest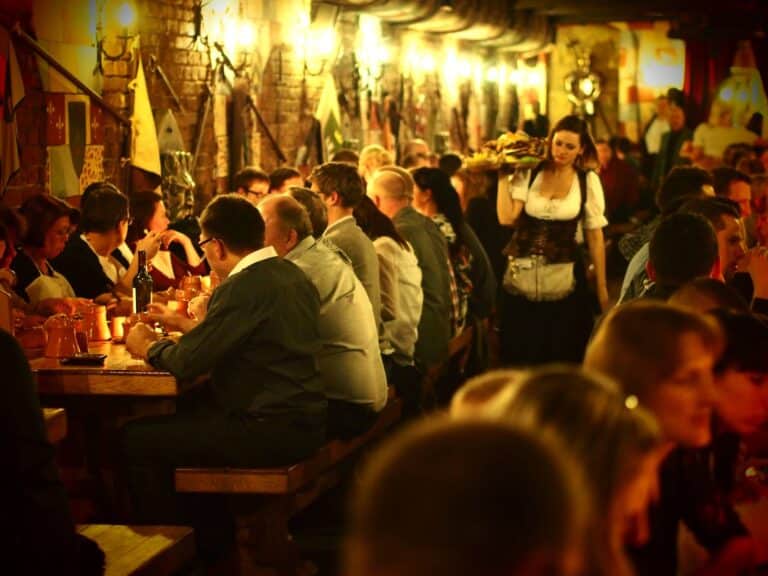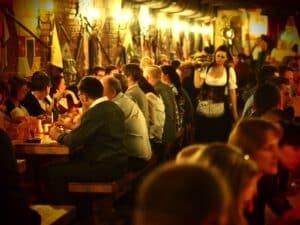 Spend an evening in the heart of Budapest enjoying a medieval Hungarian dinner in a warm setting and atmosphere. Be entertained by a show that includes swordsmen, jugglers and belly dancers, all accompanied by music.
A fun and festive experience with several menus available:
Medieval Dinner Show information and booking – click here
You can also discover other

activities in Budapest

in our article

'Best Sellers activities

' on

this link!