You are about to visit Budapest in 2 days and want to optimize your time?
Experience the best of the Hungarian capital when you spend a week-end in Budapest for the first time, following our suggestion of a two-day itinerary to Budapest. This is accompanied by some tips and activities that will allow you to see the essence of this great city.
Discover the main tourist attractions: Buda Castle, St. Matthias Church, Fishermen's Bastion, Chain Bridge, St. Stephen's Basilica, Hungarian Parliament, Grand Market Hall, Széchenyi Thermal Baths and much more to see and do!
To find out more about the monuments mentioned in our itinerary, see our article with this link on the must-see sights of Budapest.
Unfortunately, you will only have one desire — to come back as soon as possible!
Here is our program 'Budapest Travel Tips' to visit Budapest in 2 days:
Visit Budapest in 2 days – Day 1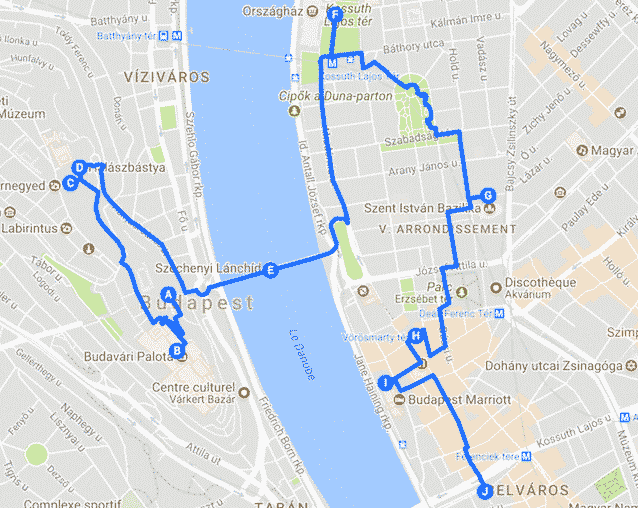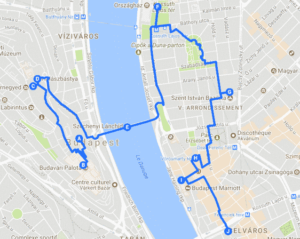 Full path: 7 km – Buda Castle, St. Matthias Church, Fishermen's Bastion, Chain Bridge, Parliament, St. Stephen's Basilica, Vörösmarty Square, Váci Street, Great Market Hall.
Morning: visit the old town of Buda
A  FUNICULAR OF THE CASTLE
Start by taking the funicular on Clark Adam Square to reach the castle district. Climbing by stairs is also possible or you can also take bus n° 16 (cheaper) at Clark Adám square: 2nd stop 'Dísz tér'.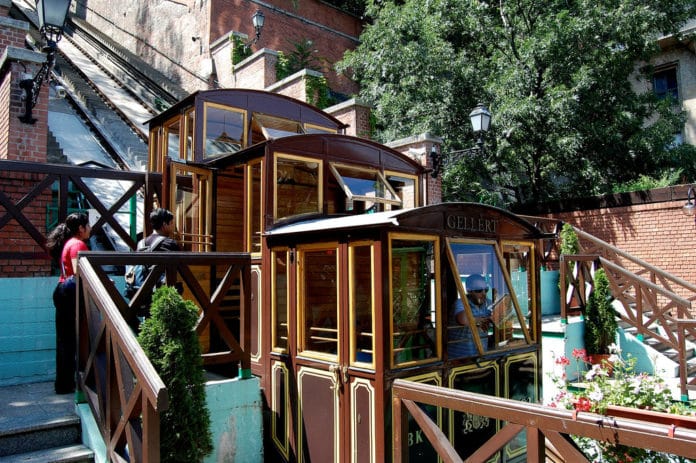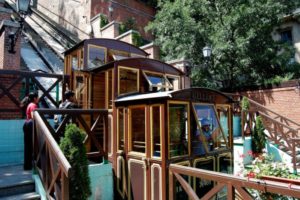 B  VISIT THE CASTLE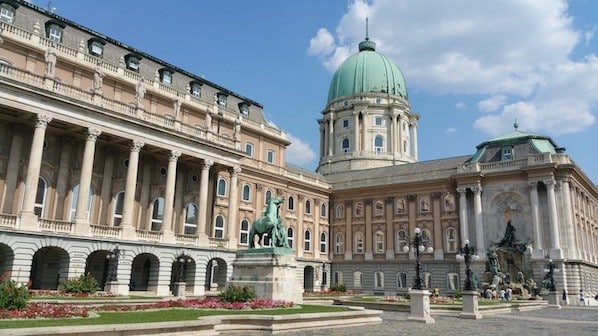 After admiring the beautiful view of Pest in front of the castle, take the opportunity to visit the works housed in the Hungarian National Gallery with the greatest Hungarian painters in the main building.
DON'T MISS!

 Buda Castle Free Tour (2,5h)

Explore one of Budapest's most emblematic monuments on this free guided tour of Buda Castle and discover the secrets of the former residence of the Hungarian royal family:

Information Buda castle Free Tour and Booking – click here

Free tours do not have a fixed price, rather each person offers the guide the amount they consider appropriate, depending on their level of satisfaction.

C  THE MATTHIAS CHURCH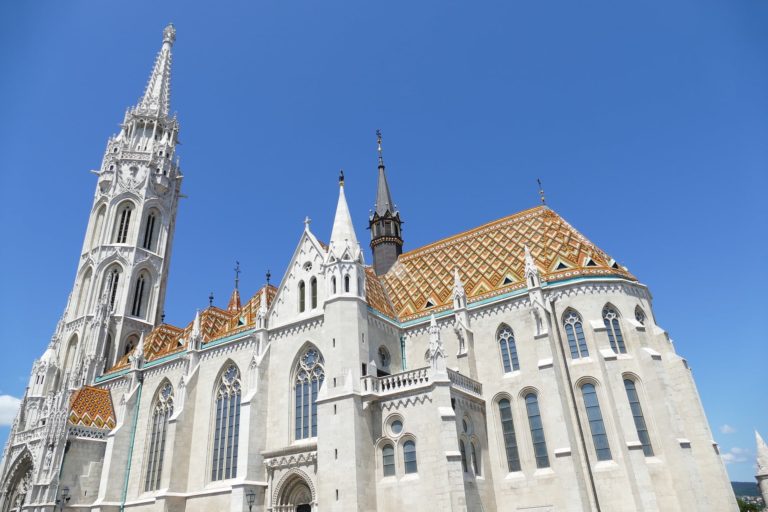 Cross the old town in 10 minutes and visit the beautiful Matthias Church.
Adult entry ≈6 €. Open hours: Monday-Friday: 09:00 to 17:00, Saturday: 9:00 to 12:00, Sunday: 13:00 to 17:00.
You can also enjoy a guided tour around the Matthias Church and learn about its rich history and architecture:
Buda Castle District walking tour information – click here
D  THE FISHERMAN'S BASTION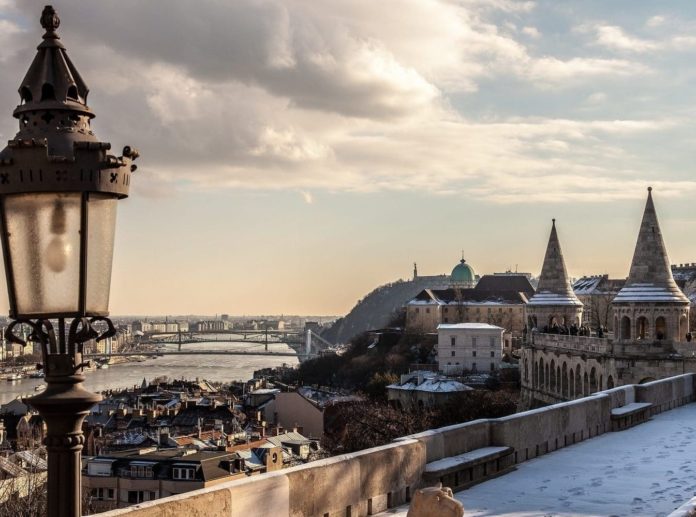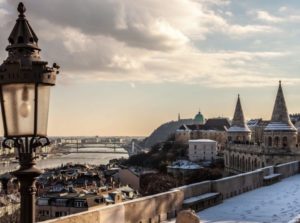 The Fisherman's Bastion is located 50m in front of Matthias Church. The entrance fee for the upper part is available on this link (free from 7:00 pm and 9:00 am all year round, otherwise adult ticket ≈3€).
If you would like to have lunch, we recommend Jamie Oliver's Italian restaurant (Szentháromság u .9) or Ramazuri Bistronomy (Úri u. 30).

Afternoon: visit of the center of Pest
E  THE CHAINS BRIDGE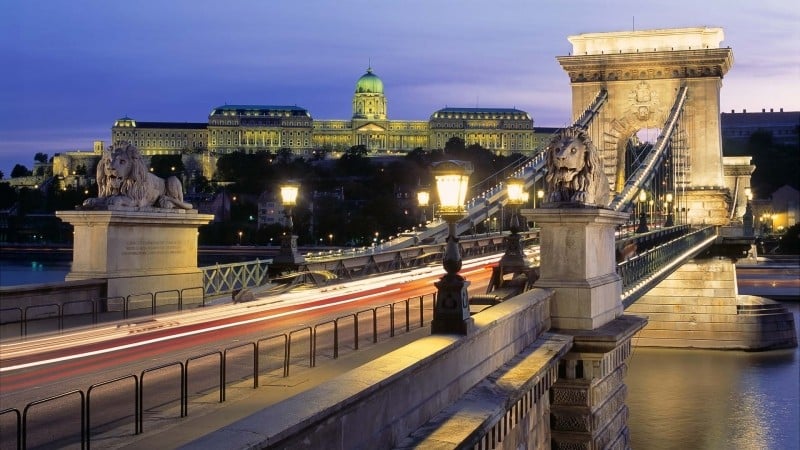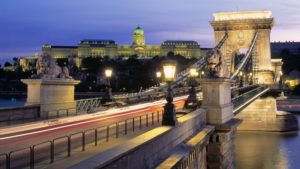 Descend the hill by funicular or on foot and cross the most beautiful bridge of Budapest, the chain bridge, the first permanent bridge of Budapest. You arrive at Széchenyi István Square, facing the spectacular Gresham Palace (Four Seasons Hotel): Feel free to enter this hotel to admire the beautiful Art Deco interior and then proceed to the Hungarian Parliament located a 10-minute walk away.
ATTENTION: The Chain Bridge is closed to pedestrians until August 3rd, 2023 and to cars (except buses and taxis) for renovation. Buses 16, 216, 105 and 178 cross the bridge and at night buses 916 and 990.
For further information on public transport in Budapest, click on this link.
F  THE HUNGARIAN PARLIAMENT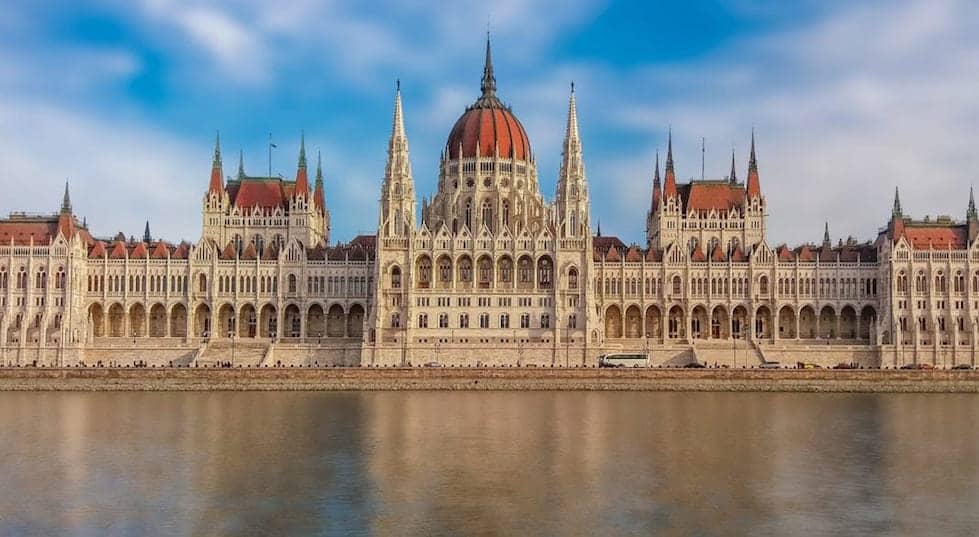 For complete information (open hours, guided tour …) and tips on the Parliament, see our article, 'How to visit the Parliament of Budapest' on this link. If you would like to have lunch, we recommend Elysée Bistro or Café Smúz on Kossuth Square.
Budapest Parliament 45-Minute Guided Tour ticket – click here
Do not miss: on the left of the Parliament (facing the Danube), go down to the edge of the river for 200m to reach the poignant memorial, 'Shoes on the banks of the Danube', dedicated to the victims of the Shoah in Budapest. About forty meters of metal shoes represent the thousands of Jews who were shot before removing their shoes.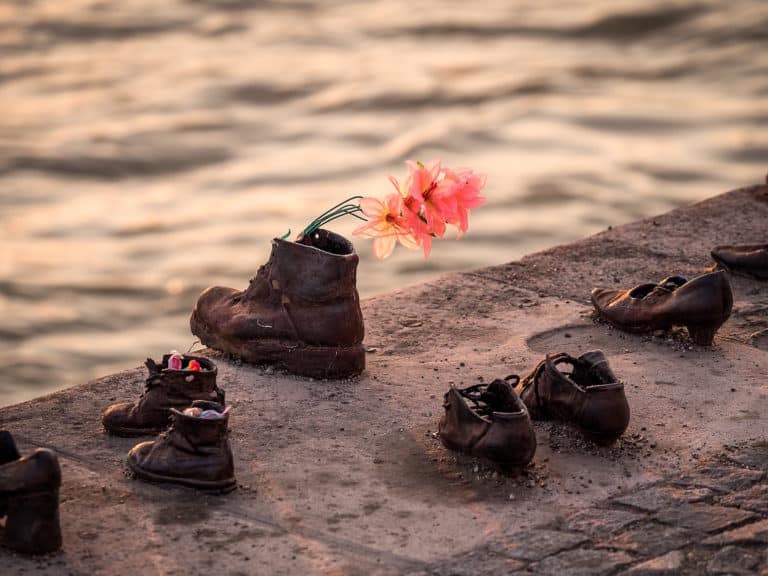 G  ST STEPHEN'S BASILICA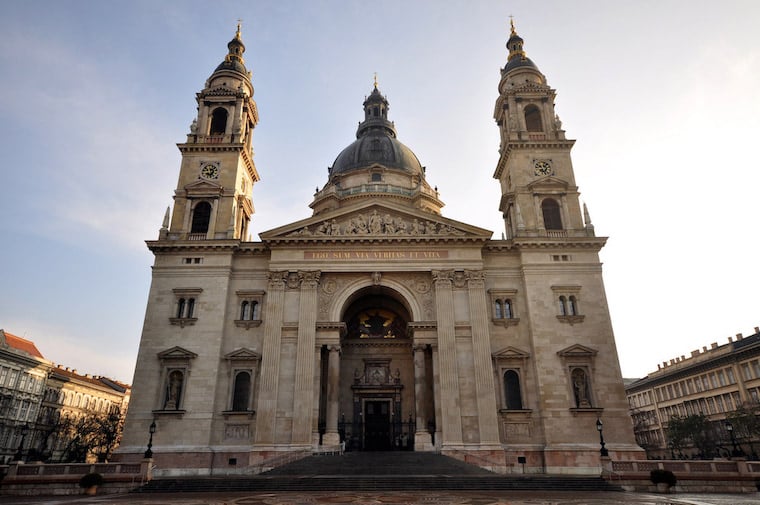 The visit to St. Stephen's Basilica is a must in Budapest and if you have the courage, do not hesitate to climb the 370 steps (or take the elevator) for a panoramic view of the Budapest skyline.
Visiting hours: 09:00 to 19:00 from Monday to Saturday. 07:45 to 19:00 on Sunday.
Skip the line and take a guided tour of St Stephen's Basilica:
Learn about its history, admire its artworks, and see the Holy Right relic. Choose the option to visit the dome terrace and treasury and take an elevator to the panoramic terrace around the dome, a unique lookout point above Budapest.
Enjoy a superb 360-degree view of the whole city. Duration: around 1 hour.
Information St Stephen's Basilica Tour and Ticket – click here
Enjoy an organ or a string concert in St. Stephen's Basilica, one of the most beautiful neo-classical buildings in Budapest! Take your pick from 3 concerts, each with 4 seating classes, to tailor your experience to your taste and budget:
Duration: about 70 minutes. Information on Classical Music Concerts in St Stephen's Basilica
and tickets – click here
Address: ST. STEPHEN'S BASILICA, Szent István ter 1, 5th district, Pest – map –
Visiting hours: March to October: 9:00 am to 6:30 pm, November to February: Monday 8:30 am to 4:30 pm, Tuesday-Sunday: 9:00 am to 5:15 pm. Adult admission: ≈3€.
H  VÖRÖSMARTY SQUARE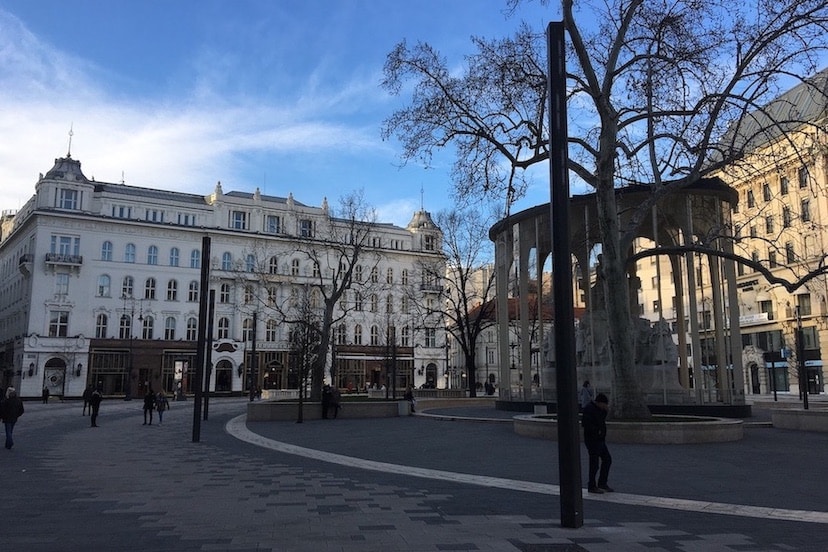 On Vörösmarty Square in the pedestrian center, have a coffee and try a Hungarian pastry at the famous Café Gerbeaud.
I  VIGADÓ SQUARE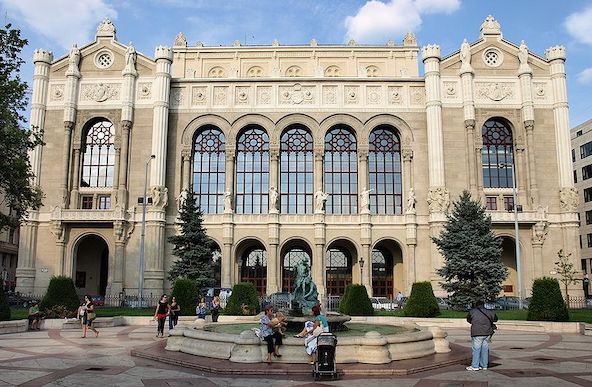 Turn right onto Vörösmarty Square towards the river on Vigadó Street or Deák Ferenc Street (on the corner of the 'Hard Rock Café') to reach the Danube bank on Vigadó Square and admire the beautiful panorama of Buda with its Castle and the Matthias Church.
J  VÁCI STREET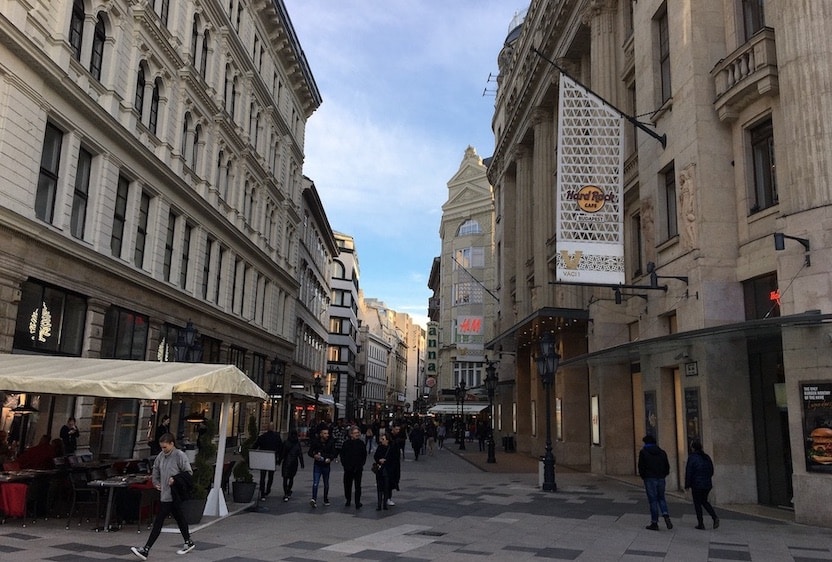 Return to Váci pedestrian street where you can go shopping. Nearby on the Március 15 square, you can have an aperitif or dinner at the Kiosk restaurant to finish your first day of our 'Visit Budapest in 2 days' itinerary. You can also discover Budapest from another angle can be experienced on a cruise on the Danube! (45mn-1h): Information on this link: cruises to Budapest on the Danube.
Visit Budapest in 2 days – Day 2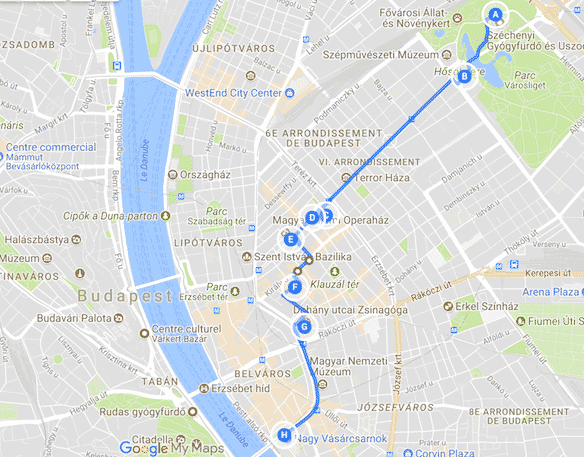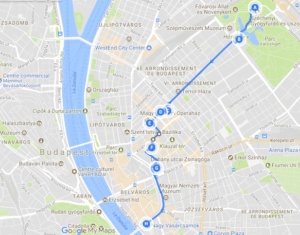 Full path: 5 Km – Széchenyi Bath, Vajdahunyad Castle, Heroes Square, Andrássy Street, Opera House, Goszdu District, Great Synagogue, Grand Covered Market.
Morning: Széchenyi baths and the Városliget district.
A  BATHS SZECHENYI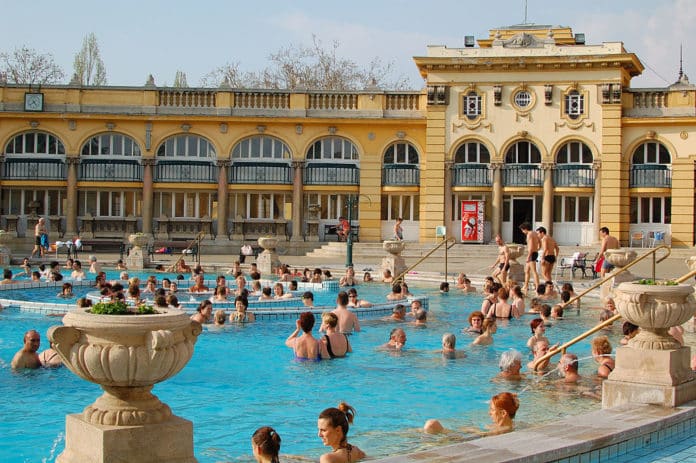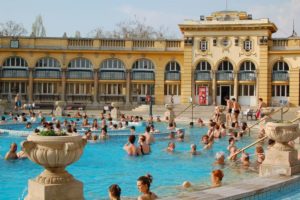 Start the day with the discovery of the Széchenyi Baths, an iconic must-see of Budapest. Detailed information about these thermal baths on this link.

Our Tip: Prepare your visit and avoid long queue (especially during school holidays, week-ends and end-of-year holidays) with skip-the-queue tickets!

Information Széchenyi baths and skip-the-line tickets – click here
After experiencing the baths, cross the City Wood ('Városliget') to reach the Heroes' Square on a few minutes' walk.
B  HEROES SQUARE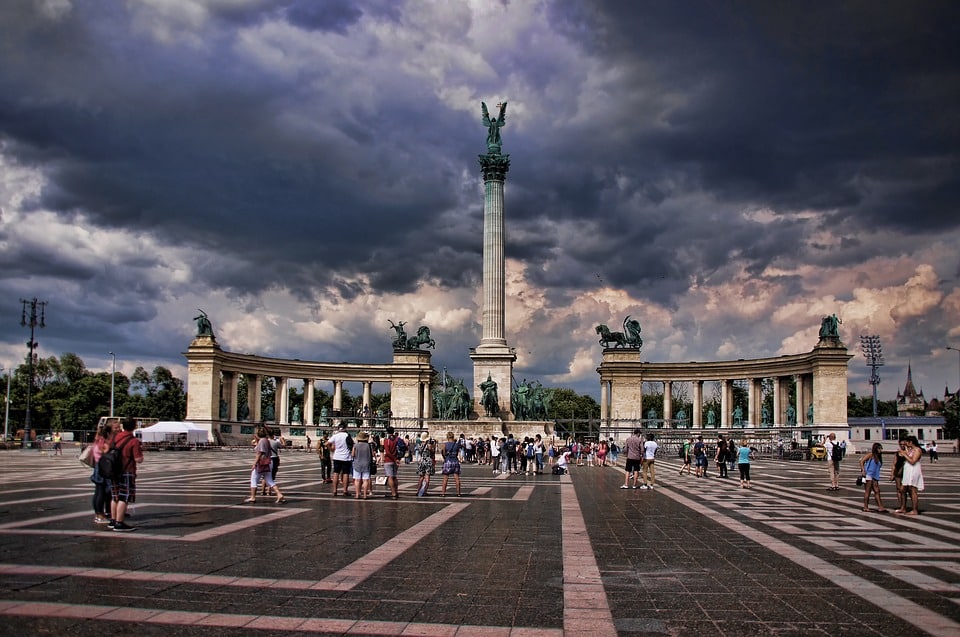 To reach this imposing Heroes Square 'framed' by the Museum of Fine Arts and the Hall of Art 'Mücsarnok', take the line M1 from Hösők Tér station to Vörösmarty Tér and get off at Oktogon station.
C  LISZT FERENC SQUARE
Visit Liszt Férenc Square and its many patios for lunch. We recommend the restaurant Menza (Liszt Ferenc tér 2) to discover Hungarian cuisine in an iconic place of Budapest frequented by locals and tourists.
Afternoon: visit of the center of Pest
D  CAFÉ PÁRISI
After lunch, take Andrássy Avenue and enter number 39 on the 1st floor, then enjoy an espresso in the sumptuous Café PÁRISI ( previously named Café Lotz).
Open every day from 09.00 to 21h00. Video of Café PÁRISI on this link.
CAFÉ PÁRISI IS UNFORTUNATELY STILL CLOSED IN 2023.
You can also go right next door to number 39  on Andrassy Avenue and discover the spectacular roof of the 360 ​​Bar that offers a panoramic view of Pest!
E  THE OPERA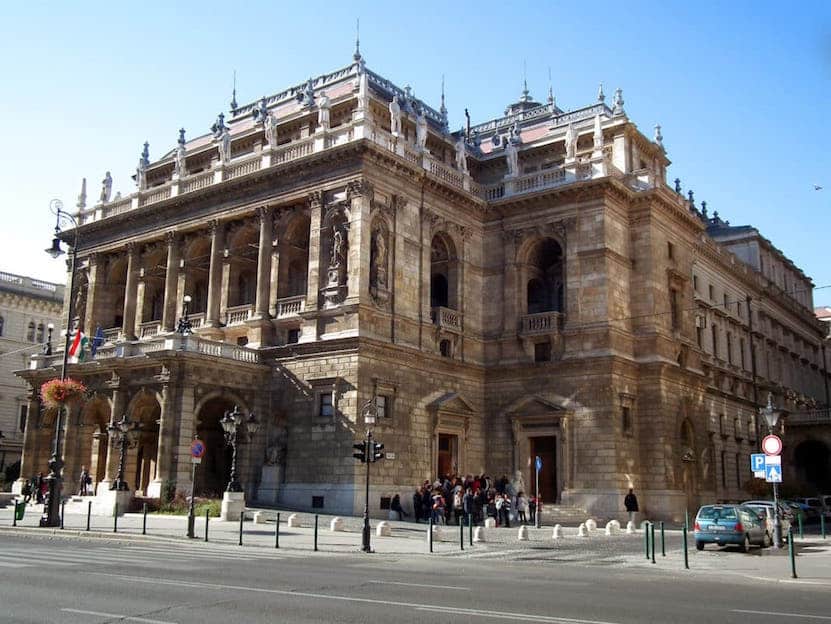 After more than 4 years of renovation, the Hungarian National Opera opened its doors on March 2022! With a capacity of 1200 seats, the National Opera of Budapest inaugurated in 1884 is an iconic place of the Hungarian capital to discover absolutely by its architectural beauty and the quality of its representations!
For informations and tickets – click here
Budapest Opera House Guided Tour
Discover the second largest stage in Europe on this guided tour of the Hungarian State Opera House, a must-see on your trip to Budapest!
A tour of the Opera House of about 60 minutes starts daily at 13.30, 15.00 and 16.30 in English. Booking at least 1 week in advance strongly recommended.
Information Opera House Guided Tour
and booking – click here 
F  GOZSDU COURT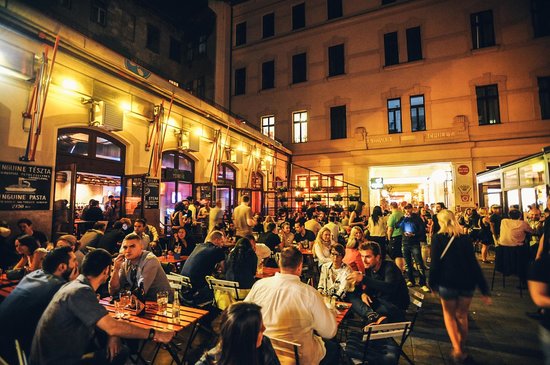 Cross the GOZDU COURT, one of Budapest's night spots, with its many restaurants and cafes. If you want to eat, we recommend the Bistro Spiler. You are then a few minutes walk from the Synagogue.
G  THE GREAT SYNAGOGUE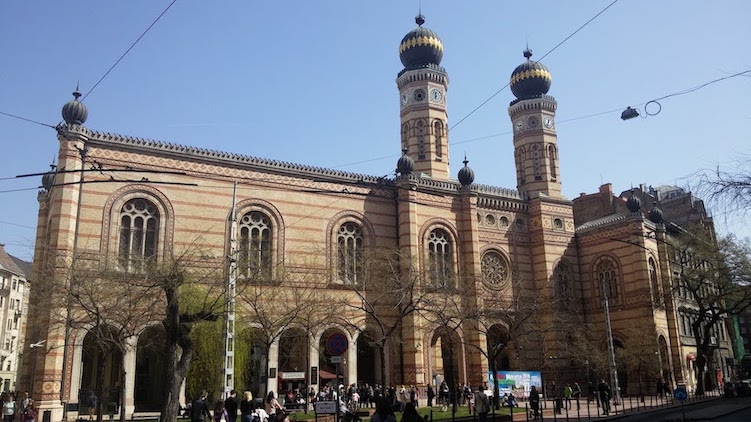 Visit the largest Synagogue in Europe which offers guided tours throughout the day.
Visiting hours: from the beginning of March to the beginning of November the synagogue is open from 10am to 6pm from Monday to Thursday, and from 10am to 4pm on Fridays.
From the beginning of November to the end of February, it is open from 10h to 16h from Monday to Thursday and from 10h to 14h on Fridays. Closed on Saturdays
Jewish heritage walking tour information and ticket  – click here
You are now in the Jewish Quarter and if you have 20 minutes, why not discover a ruin bar after a 5 minutes' walk ? Indeed, the most famous, called Szimpla Kert, is also visited during the day and worth the detour. Inside you will discover in an abandoned building on several floors an iconic spot for the night life of Budapest!
Address: Szimpla Kert, Kazinczy u. 14th, 7th district, Pest – map – website.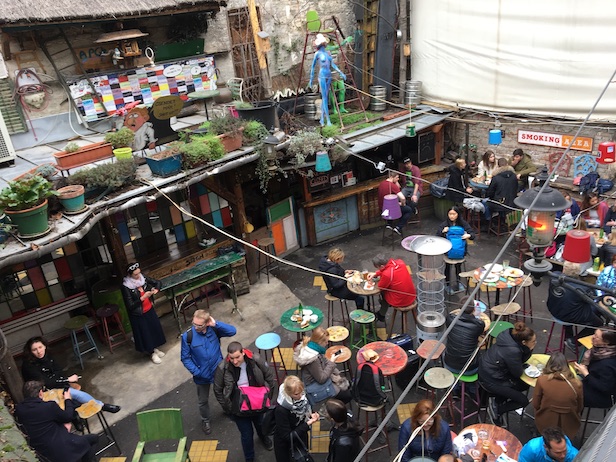 H  THE GREAT MARKET HALL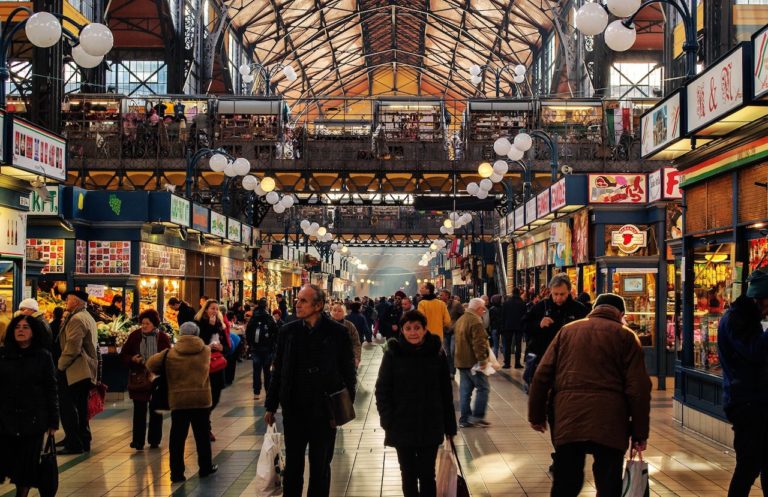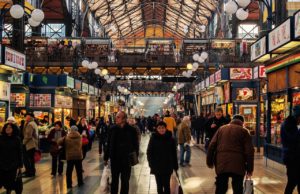 Finish your day with a visit to the Great Market Hall, a UNESCO World Heritage Site. You can discover the culinary specialties of Hungary and also its crafts on the 1st floor. This is one of the favorite must-sees of our program, 'Visit Budapest in 2 days'!
Address: Vámház krt. 1-3, IXth arrondissement, Pest – map – website.
Opening hours: Monday from 06:00 to 17:00, Tuesday to Friday: 06:00 to 18:00, Saturday: 06:00 to 15:00, Sunday closed.
Video of the Budapest Great Market Hall on this link.
Finally, for dinner in Budapest, do not hesitate to consult our article, 'Our selection of restaurants in Budapest'.
Enjoy splendid views of Budapest with a sightseeing Bus tour!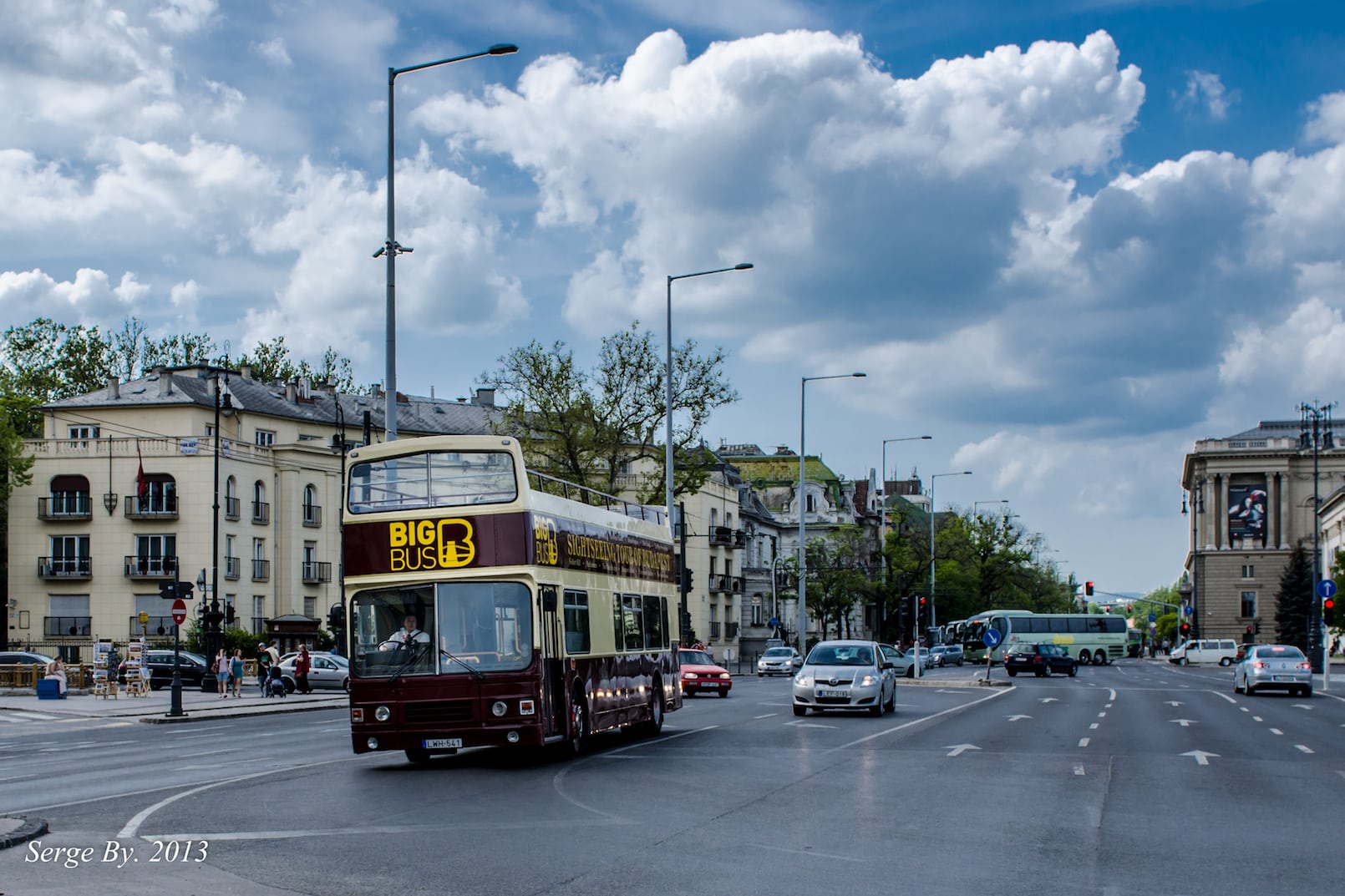 Explore Budapest at your own pace: Hop on and off at at any of the 39 designated stops with a 1, 2 or 3-day ticket to visit the

city's key landmarks!
Information Bus Tour and ticket – click here
3-Hour Live Guided Sightseeing Tour:

Enjoy a 3-hour guided tour of Budapest and learn the highlights of a thousand years of Hungarian history. Visit the beautiful Castle District, Heroes' Square, enjoy the views from Gellért Hill, see the famous Central Market Hall and much more!
Information and Ticket – Budapest 3-Hour Guided Sightseeing Tour –
click here
Discover Budapest with a guided Sightseeing Bike Tour!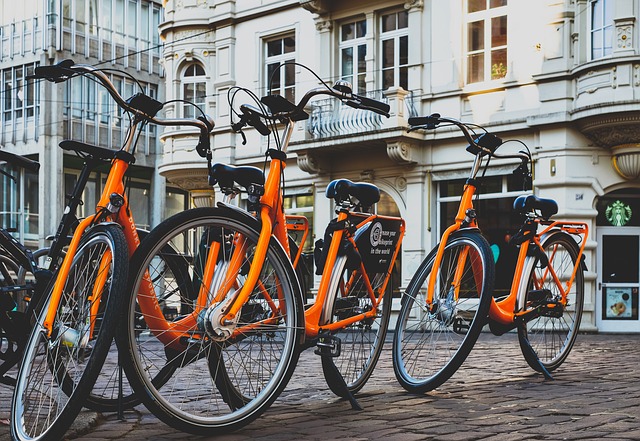 During your guided Bike Tour through Budapest (around 3.5 hours), you can admire the main sites of Budapest, stop and enjoy a refreshing drink (small group tour, private tour available).
Information and tickets Budapest guided bike tour – click here
Historic Budapest Free Tour (2,5h)

This Historic Budapest Free Tour will take you through the southern part of the Austro-Hungarian capital while you learn about the most important events during the 19th and 20th centuries and monuments (St Stephen's Basilica, Budapest Parliament, Chain Bridge,…).
Information Budapest Historic Free Tour and Booking – click here
Free tours do not have a fixed price, rather each person offers the guide the amount they consider appropriate, depending on their level of satisfaction.
If you wish to enrich your 'visit Budapest in 2 days' itinerary, you can consult our recommendations to visit Budapest in 3 days or

4 days

!