What to do and see in Budapest in November ?
Discover the numerous events and activities we have selected for your visit to Budapest in November. 
This calendar 'Budapest in November' is regularly updated as soon as new events are announced that attract our full attention.
Budapest Christmas Markets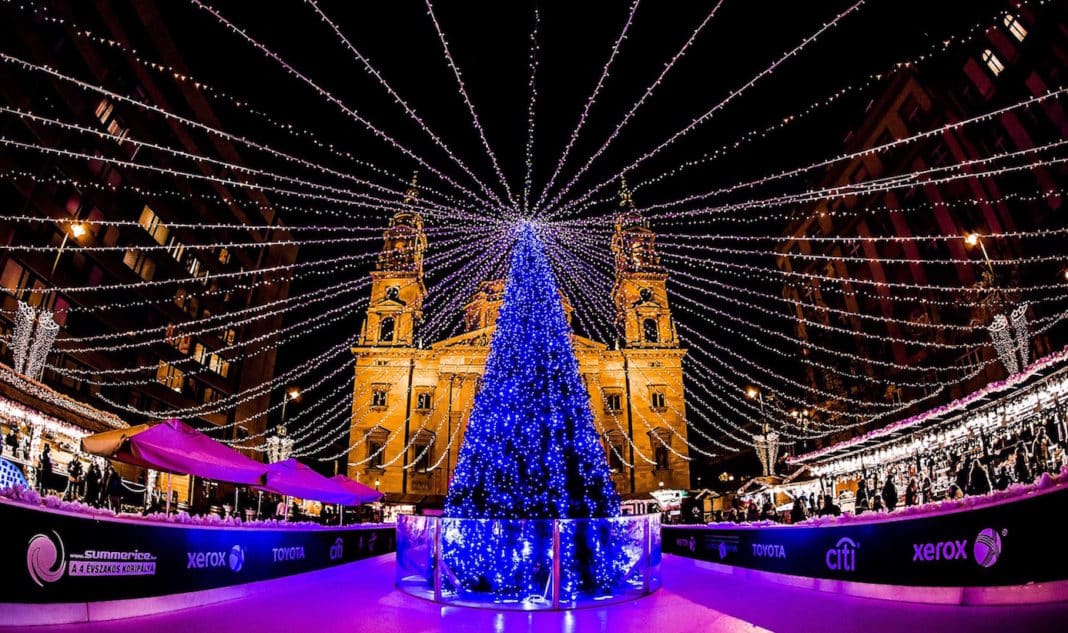 Budapest lights up from November 17th with its many Christmas markets in Pest. It's an opportunity to discover Budapest in November in a festive atmosphere with beautiful decorations. Among the main Christmas markets in Budapest are the Vörösmarty square market and the Christmas market of St Stephen's Basilica in Pest. Find complete information (opening hours, plans, photos, tips, etc.) in our article, 'The best Xmas markets of Budapest' on this link.
Also enjoy our article, 'What to Eat at Budapest Christmas Markets' on this link.
World Press Photo 2023 exhibition – until 5 November

From 20 September to 5 November 2023, the World Press Photo 2023 exhibition at the Hungarian National Museum will present 138 images selected by an international jury from 64,823 photos taken by 4,000 photojournalists from 130 countries. Discover this unique exhibition on its world tour, which presents the most important news and images of the year through the photographs of the 65th edition.
Address: Hungarian National Museum, Múzeum krt. 14-16, Budapest 1088, Pest – map – website – Open Tuesday to Sunday from 10:00 to 18:00.
CONCERTS ST. STEPHEN'S BASILICA
every Sunday and Tuesday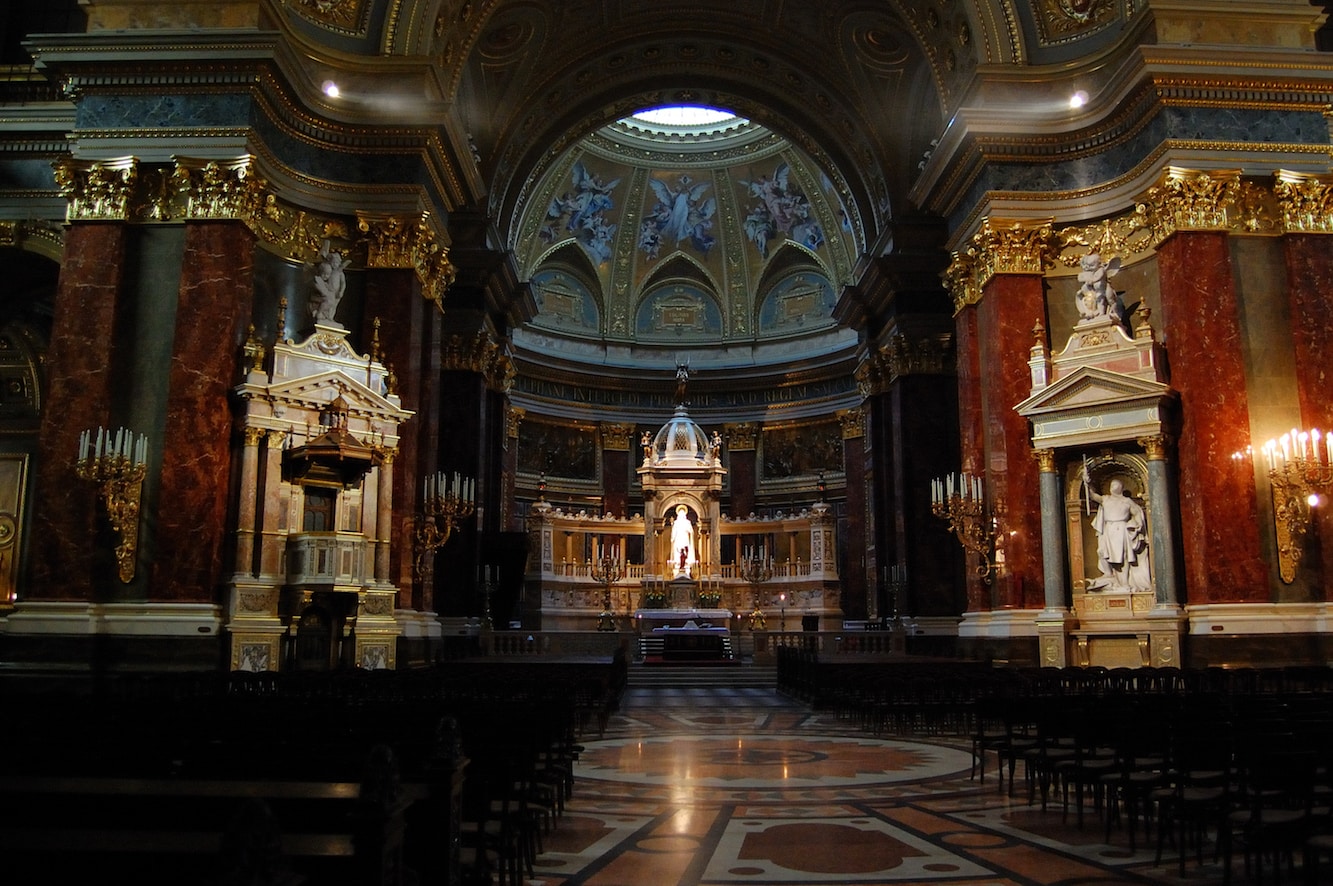 In the center of Pest enjoy an organ or a string concert in St. Stephen's Basilica, one of the most beautiful neo-classical buildings in Budapest. Take your pick from 3 concerts, each with 4 seating classes, to tailor your experience to your taste and budget.
Concert every Sunday and Tuesday at 8:00 pm
Duration: about 70 minutes. Information on Classical Music Concerts in St Stephen's Basilica
and tickets – click here
Address: ST. STEPHEN'S BASILICA, Szent István ter 1, 5th district, Pest – map –
Budapest open-air skating rink from mid November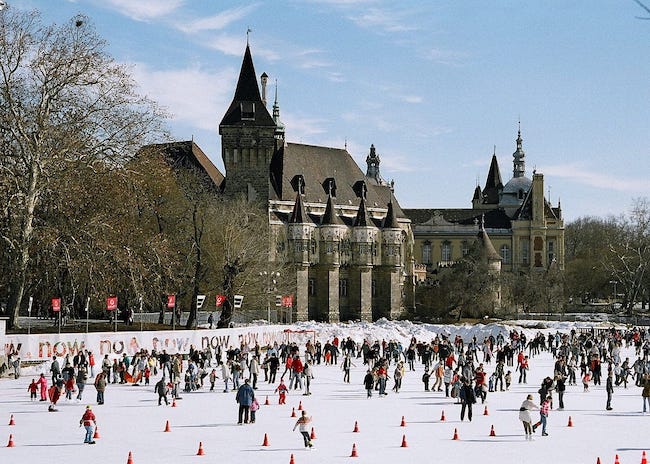 The Városliget ice rink in Budapest is Europe's largest outdoor rink located on the edge of the city's woodland, with a magnificent view of the Vajdahunyad Castle!
Enjoy this unique ice rink from November 20th to the end of February.
You can rent skates and enjoy a coffee or hot chololate in the restaurant located aside the main building.
Open hours: Monday to Friday from 9h to 13h and from 17h to 21h; Saturday and Sunday from 9h to 13h and from 16h to 21h (20h on Sunday). Price: ≈ 6 € entry on weekdays until noon Friday; on weekends ≈ 8,5 €. Skate rental: ≈ 7,5 € – Website – Map.
Address: Városliget ice rink, Olof Palme sétány. 5, XIVth district- Pest.
MATTHIAS CHURCH CONCERT – every Friday
The beautiful Matthias Church in Buda's Old Town holds classical music concerts several times a month with the Budapest Duna String Orchestra.
Spend an evening in this unique venue and enjoy a magical classical concert performed by the Duna String Orchestra and violin soloist Gabora Gyula. Concert every Friday:
Information about Matthias Church Concerts and tickets – click here
Address: Matthias Church, Szentháromság tér 2, 1st district, Buda – map –
Cruises on the Danube River – Budapest in November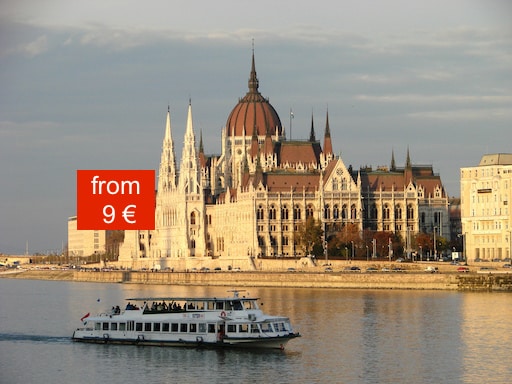 Discover Budapest with a cruise on the Danube (45mn-1h), day and night, to admire Buda Castle, Matthias Church, Hungarian Parliament, Citadel, Hotel Gellért, and more!
For Cruise information in Budapest – click here
There is also the possibility of a dinner cruise every evening (two hours and forty five)!
In the evening departing at 19:45, you can enjoy a two and a half hour cruise on the Danube accompanied by a four-course dinner and the musical performance of local Hungarian artists:
For information and booking a dinner cruise – click here
Exhibition 'Renoir – The painter and his models' until 7 January 2024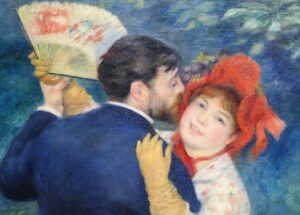 The Budapest Museum of Fine Arts, in collaboration with the Musée d'Orsay in Parisand the Musée de l'Orangerie in Paris, is organising a unique exhibition on the work of Pierre-Auguste Renoir. Renoir is considered to be one of the most famous Impressionist painters, whose rich and varied oeuvre spans six decades, from the early 1860s until his death in 1919.
This exhibition is both chronological and thematic, exploring Renoir's relationship with the models who inspired his art, through paintings, graphic works and sculptures.
Address: Museum of Fine Arts, Dózsa György út 41, XIVth district, Pest – website.
Open hours: Tuesday-Sunday: 10:00 to 18:00, closed on Mondays.
LISZT ACADEMY OF MUSIC
Bach, Shostakovich and Schönberg on 12 November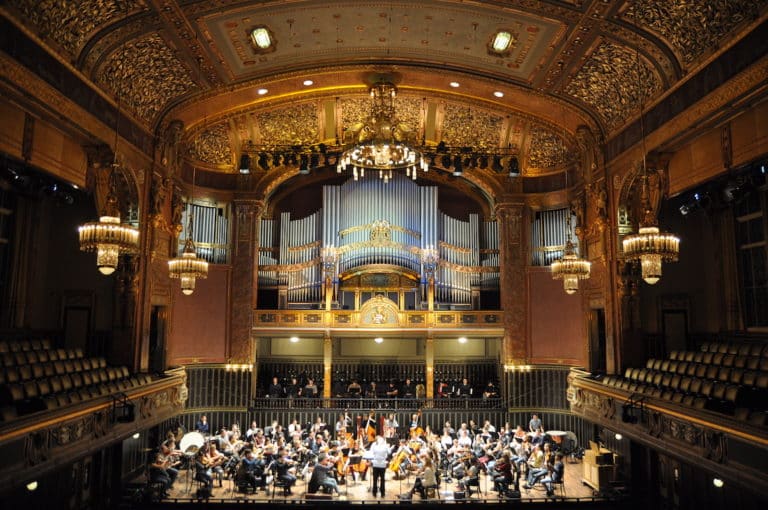 The Liszt Academy of Music is a jewel for its unique architecture and classical concerts. Located in the center of Pest on the Liszt Ferenc Square, it is one of our favorites and a unique experience even if you are not a music lover. (Tickets from 15 euros):
For information and tickets – click here
Address: Liszt Academy of Music, Liszt Ferenc ter 8, 6th district, Pest – plan –
Discover the beautiful Budapest Academy of Music in video on this link.
EXHIBITION 'ILLUSION OF TIME' – RUTH ORKIN
Until 14 January 2024, the Mai Manó House of Photography is hosting the exhibition 'The Illusion of Time' by Ruth Orkin (1921-1985), one of the finest photographers of her time, an award-winning photojournalist and filmmaker whose deeply absorbing images capture the charm and intrigue of everyday life. In 1959, Ruth Orkin was named one of the "Ten Best Women Photographers in the United States" by the Professional Photographers of America.
Address: Mai Manó Ház, Nagymező u. 20, 6th district, Pest – plan – website.
Open hours: 14:00 to 19:00 Monday to Friday, 11:00 to 19:00 Saturday and Sunday.
CONCERTS AT SAINT-MICHAEL'S CHURCH
VIVALDI's 4 SEASONS – every Monday, Wednesday and Saturday

Enjoy an evening of classical music in Budapest's city centre with a concert of Antonio Vivaldi's 4 Seasons by the Danube String Orchestra at St. Michael's Church. Performances at 7.00 pm lasting around 70 minutes. Choose from 3 seating categories to tailor your experience to your needs and budget:
Information Concert Vivaldi's 4 Seasons and Tickets – click here
SPARTY bath parties at the Széchényi baths
The Széchenyi Baths host the Sparty parties on Saturday evenings in their outdoor baths. In this impressive setting you will experience animations, dancers, 3D projections and DJs live sets for a unique winter evening party !
Information SPARTY and tickets –  click here
Video of the Sparty event:
The Széchenyi baths can be reached by public transport via the Metro M1 – Széchenyi fürdő station – and the trolley bus 72 – Széchenyi fürdő station.
Address: Széchenyi baths, Állatkerti krt. 9th – 14th district, Pest.
National Opera in Budapest

After more than 4 years of renovation, the Hungarian National Opera reopened its doors in 2022! With a capacity of 1200 seats, the National Opera of Budapest inaugurated in 1884 is an iconic place of the Hungarian capital. Discover its architectural beauty and the quality of its representations for an unique evening!
Information about the Budapest Opera, programs and tickets  – click here
Budapest Opera House Guided Tour
Discover the second largest stage in Europe on this guided tour of the Hungarian State Opera House, a must-see on your trip to Budapest!
A tour of the Opera House of about 60 minutes starts daily at 13.30, 15.00 and 16.30 in English, including a 10mn concert! Booking at least 1 week in advance strongly recommended:
Information Opera House Guided Tour
and booking – click here 
Discover also opera, classical concerts and shows in Budapest in our dedicated article on this link.